On February 3, 2011, the Dean's Scholarship Reception honored the generous donors who support financial aid at Columbia College and recognized students for their achievements. The annual reception provides an opportunity for scholarship recipients to meet their donors and for the College to thank everyone who helps make financial aid possible. Dean Michele Moody-Adams delivered the following remarks: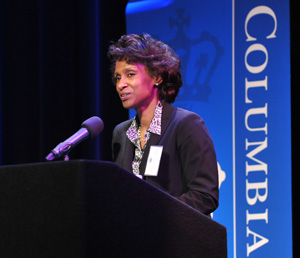 I have the privilege of beginning the formal part of tonight's program by making some brief remarks about the College's gratitude for all that our donors do to support financial aid.
So let me begin by doing some "context-setting." There are approximately 3,000 four-year, degree-granting colleges and universities in America. The vast majority of these institutions provide some kind of financial aid, and the aid packages that they offer are relatively generous. But fewer than 50 of those nearly 3,000 institutions offer genuinely need-blind admissions, and fewer than 30 can legitimately claim to be both need-blind and offer full-need aid for all their domestic applicants. So in having made a commitment to need-blind admissions and full-need aid, Columbia is a member of a truly select group of schools. Of course, our commitment to full-need aid is especially robust. In late 2008, Columbia joined a very small group of institutions in adopting a policy that eliminated loans from our financial aid packages and that either eliminated or substantially lowered the parental contribution.
In a time during which students at some elite American institutions graduate with crushing debt burdens, this is an extraordinary institutional commitment to accessibility and affordability. A College Board report called Trends in Student Aid reported that, in 2007–2008, 10 percent of those who graduated with student loans were $40,000 or more in debt, and that the median debt for bachelor's degree recipients from elite private colleges was $22,380. And in May 2010, in a story on student loan debt, The New York Times reported an astonishing case of a recent graduate of NYU with nearly $100,000 in student loan debt from her four years at NYU (May 28, 2010; "Placing the Blame as Students are Buried in Debt"). Such facts remind us of just how remarkable it is that we have been able to sustain a robust commitment to ensuring that highly talented students from diverse social and economic backgrounds can reasonably consider earning a Columbia College degree.
This is an effort of which we should be proud, both for the message it sends to a nation — and indeed a world — in desperate need of talented, well-educated leaders, and for the way it reaffirms Columbia's long-standing dedication to increasing access to its elite educational experience. We are able to sustain this extraordinary program of financial aid only because we get an awful lot of help from our friends. And our friends — loyal alumni, parents and others — are people whose vision, commitment and generosity help ensure that access to a Columbia College education is limited only by the depth of one's talent, accomplishment and drive, not by the depth of one's family's pockets. To these friends who are gathered around each table in this room, as well as to those who cannot be with us tonight, we say thank you for your vision, for your commitment and for your continuing generosity.
To our donors, let me stress, first, that your support for financial aid is one of the most direct ways possible to express confidence in the continuing value of the Columbia undergraduate experience. Your gifts affirm the importance of a robust education in the liberal arts and sciences. Columbia College offers access to the best traditions of human thought and culture, along with exposure to exciting intellectual innovations in all the academic disciplines, and it does all of this in the midst of perhaps the most vibrant metropolis in the world. Of course, there are many ways to express your confidence in the value of the Columbia College education. But there is none more immediate than a gift that will ensure that provides our outstanding, deserving and highly motivated students with the opportunity to attend Columbia, whatever their socio-economic circumstances.
But second, because support for financial aid affects the lives of students, who will become the next generation of leaders, your gift is a rewarding way to make an investment in the future. Our hope is that tonight's event provides all of our assembled donors with some opportunity to be reminded of how important this kind of investment really is. At your tables, and fairly soon on this very podium, you have the chance to hear, firsthand, what your investment in the future really means.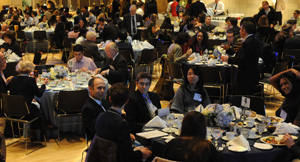 You will hear that our students are accomplishing remarkable things, in the classroom and in the laboratory, in the local communities just outside the gates of the Morningside Heights campus, and often in national and international arenas where they compete at the highest levels with students from other institutions. We know that through the Core Curriculum, they immerse themselves in classic readings from the great traditions of literature, philosophy, religion and social thought, and that they learn how to appreciate a Beethoven symphony and analyze the architecture of great cathedrals. But our students are doing so much more: Some of them are asking how nanotechnology might be used to make affordable solar panels, others are considering whether robotics might aid in nervous system recovery after strokes and spinal cord injuries, and others are doing acoustic analysis of whale songs to determine breeding patterns amongst humpback whales. Some students are interning in nongovernmental organizations, in government offices and agencies, in the arts and in cultural organizations, and in business domains as diverse as finance and risk management in Turkey and real estate brokerages in New York. Your gifts put these academic and co-curricular experiences within the reach of all of our students, and in so doing your gifts are playing a singularly important role in shaping the future.
But perhaps most fundamentally, your support of Columbia College's financial aid program is an investment in excellence. In particular, it is an investment in the excellence of the extraordinary students we attract to the institution. As of the most selective institutions in the country, we have the privilege of choosing from amongst the most outstanding applicants possible. (As you may have read, this year, nearly 35,000 of them are clamoring to become part of next year's first-year class.) And we have a financial aid policy that allows every talented student we accept to take our offer of admission seriously. The socio-economic, geographic and ethnic diversity that results helps us create an intellectual and social environment that has vibrancy unmatched by any institution in the world. This environment is an integral part of the excellence that is embodied in every element of the Columbia College educational experience.
Many of our donors were recipients of financial aid themselves and have shown, by their generosity, that they understand the importance of giving back to the College as donors. Donors who were not recipients of financial aid show, by their generosity, that they understand the importance of financial aid to those who receive it. So I say to the students we are privileged to have with us this evening that, along with all the other things, you can learn and experience at Columbia College, I hope you take to heart this marvelous lesson on the importance of giving back to support a community that has enriched your life.
To those of our donors who have taken advantage of planned gifts to endow or increase their scholarship funds, I offer an additional expression of the College's gratitude — gratitude for being willing to extend your expression of confidence in our students indefinitely into the future. For donors who would like to learn more about how to include the College's scholarship program in your estate planning, staff from our Office of Gift Planning will be happy to talk with you about the options.
To conclude, let me turn back to the broadest implications of the philanthropy represented by the wonderful donors in this room. We know that it is an extraordinary thing to continue with philanthropic pursuits in economically turbulent times. It is hardly possible to pick up a newspaper these days without confronting a story about the decline — the understandable decline — in charitable giving. And we understand that, perhaps particularly in these times, many worthy philanthropic causes rightly command your attention. So we know how much it means that you are willing to make, and to continue, your commitments to scholarship support for the College. We are deeply grateful for the ways in which your philanthropy expresses our shared commitment to excellence, for the way it affirms our shared love of the curriculum in which that excellence is deeply embodied and for the way it conveys our shared confidence in the young people who come to us yearning to take their places as future leaders.