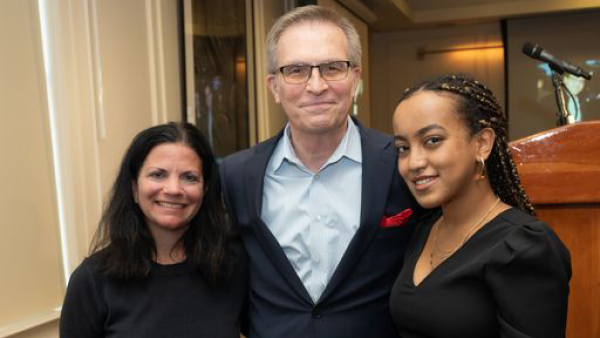 A decades-long tradition at Columbia College returned on March 29: the Dean's Scholarship Reception. The annual event gives students and donors the opportunity to meet over dinner, often for the first time. More than 200 guests gathered at Faculty House, where the playful sounds of the undergraduate jazz trio accompanied the flowing conversation at each table.
Dean James J. Valentini welcomed this year's featured speakers: Ruth Dejene CC'24, chief development officer for the Columbia University Black Pre-professional Society, student representative of Columbia College Women through the Columbia College Student-Alumni Ambassadors and recipient of the Kyra Tirana Barry and David Barry Scholarship Fund; and Michele Esposito CC'96, member of the Columbia College Board of Visitors, chair of the 1754 Society and benefactor of the Esposito-Crandall Family Scholarship Fund. Valentini emphasized the importance of students interacting with donors, because in them, "current students can see their future selves."
Dejene, who is majoring in anthropology and computer science, immigrated with her family from Ethiopia to Northern Virginia 13 years ago. She described how the College's need-based financial aid program helped her pursue her dream school and take advantage of Columbia's countless opportunities. She also shared that her sister will be joining her at the College this fall as a member of the Class of 2026.
Esposito also spoke of family in her remarks: She established the Esposito-Crandall Family Scholarship Fund in 2010 to honor the sacrifices of her grandparents, who immigrated to the United States from Italy and Sicily so that their children could have access to higher education. The Espositos are proud to count two alumni in the family: Michele and her sister, Marisa Esposito BC'93.
View photos from the evening on Facebook.