Monday, February 13, 2012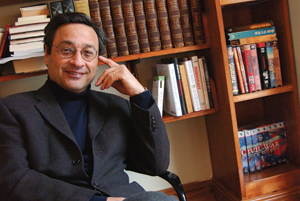 Andrew Delbanco, the Julian Clarence Levi Professor in the Humanities and director of the Center for American Studies, received the 2011 National Humanities Medal from President Barack Obama '83 in a ceremony in the East Room of the White House on February 13.
Delbanco was honored, according to the citation read at the ceremony, "for his insight into the American character, past and present. He has been called 'America's best social critic' for his essays on current issues and higher education. As a professor in American studies, he reveals how classics by Melville and Emerson have shaped our history and contemporary life."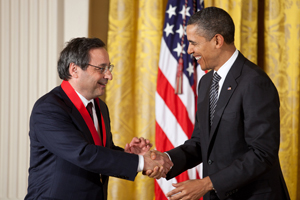 President Barack Obama '83 awards the 2011 National Medal of Arts and National Humanities Medal to Andrew Delbanco in the East Room of the White House, Feb. 13, 2012. (Official White House Photo by Chuck Kennedy) Delbanco was one of nine recipients of the National Humanities Medal; eight National Medal of Arts winners were honored at the same ceremony. One of last year's winners of the National Humanities Medal was Jacques Barzun '27, '32 GSAS.
Delbanco is a past winner of Columbia's Great Teacher Award from the Society of Columbia Graduates and the Lionel Trilling Award from Columbia students for his book, Melville, His World and Work. His essays appear regularly in The New York Review of Books and other journals and he is a Fellow of the American Academy of Arts and Sciences and a Trustee of the Library of America, the Association of American Colleges and Universities and the Teagle Foundation.
His new book, College: What It Was, Is and Should Be, will be published in March by Princeton University Press. He is working on a book about abolitionism and American culture that will be published by Harvard University Press.