Ethan Chen CC'21, a biochemistry major with a statistics concentration from Rockville, MD, and Abhishek Shah CC'21, a neuroscience major from Denton, TX, have each been awarded the Goldwater Scholarship, the preeminent undergraduate award in the fields of mathematics, the natural sciences and engineering.
Chen's research includes Sam Sternberg, assistant professor of biochemistry and molecular biophysics, on the mechanisms of RNA-guided DNA integration by a transposon-encoded CRISPR/Cas system and its applications in bacterial genome engineering. Previously, he worked with Professor of Chemistry Laura Kaufman CC'97 on the mechanisms of breast cancer cell invasion in 3D culture of spheroids. Following graduation, he plans to apply to M.D.-Ph.D. programs in biochemistry.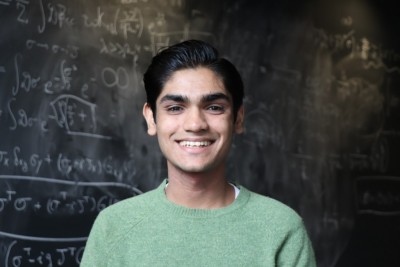 Shah currently works with Christine Denny, assistant professor of clinical neurobiology in psychiatry, to study the antidepressant action of the drug ketamine. He is interested in using research at the intersection of neuropsychiatry and memory/learning to unravel the intricacies of the brain. After graduating, he aims to pursue a Ph.D. in neuroscience.
The Goldwater Foundation is a federally endowed agency established by Public Law 99-661 on November 14, 1986. The Scholarship Program honoring Senator Barry Goldwater was designed to foster and encourage outstanding students to pursue research careers in the fields of the natural sciences, engineering, and mathematics.
From an estimated pool of over 5,000 college sophomores and juniors, 1,343 natural science, engineering and mathematics students were nominated by 461 academic institutions to compete for the 2020 Goldwater scholarships.
Chen and Shah are among 396 students to receive the Goldwater Scholarship this year, including Sapna Ramesh SEAS'21. Both students are also Rabi Scholars, a Columbia College program that supports students with exceptional scientific promise.
Columbia College students interested in learning more about applying for the Goldwater Scholarship program are encouraged to connect with Undergraduate Research and Fellowships.