More than 1,200 alumni, students, parents and friends gathered on October 20 at the Baker Athletics Complex on West 218th Street for Homecoming 2012, which included a gourmet barbecue and carnival under the Big Tent, music and mingling. The Cleverest Band in the World got the group singing and Roar-ee made an appearance as well.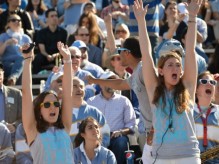 Homecoming 2012
A special event this year was the dedication of
The Campbell Sports Center
, the new cornerstone of the revitalized Baker Athletics Complex. The center will foster Columbia spirit and transform the student-athlete experience by creating an attractive year-round hub for student-athletes, coaches, staff and administrators. The center honors, and is made possible by, one of Columbia's most accomplished athletics alumni: captain of the 1961 Ivy League Champion football team, former Lions head football coach and chair of the University trustees, William V. Campbell CC '62, TC '64.
A boisterous crowd of 11,127 attended the game against Dartmouth's the Big Green at Robert K. Kraft Field, which featured a 1:30 p.m. kickoff.
The Lions
lost 21–16, holding a fourth quarter lead for the second consecutive week, but could not hold on. At halftime, Columbians of all ages returned to the Big Tent to enjoy a dessert reception, which was sponsored for the second consecutive year by the
Columbia Alumni Association
.