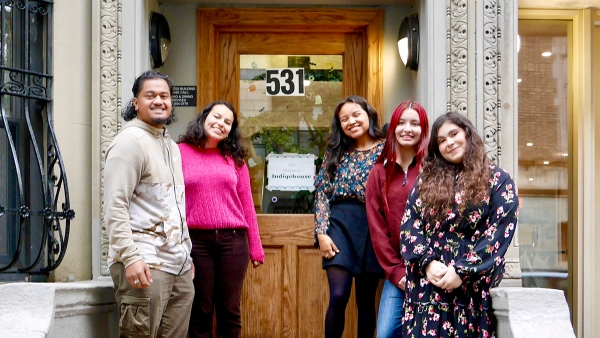 A group of students sprang into action last year when a historic five-story brownstone on West 113th Street became available from Columbia's Special Interest Communities (SIC) Program. After a competitive application process, spearheaded by Hannah Jimenez CC'23 and Kianna Pete CC'23, the group was awarded the 107-year-old building to create Indigehouse, a long-term home base for Columbia's Indigenous and Native students and a major step for growing their community's presence on campus.
SICs allow students to cultivate a residential community around shared personal or academic interests; Indigehouse is now home to 14 Indigenous students and one RA. Says Pete, who is Diné/a member of the Navajo Nation: "Having this space, it's just instant comfort."
Just a month into the school year, Indigehouse is blossoming. "It is kind of astounding how close everybody got in so little time," says Jimenez, an archeology major and a member of the Cherokee Tribe of Oklahoma. "That was something we were hoping would happen, but going in we had no idea."
Indigehouse has a lot in common with a dormitory, but it offers a huge amount of space for community-building. Residents can eat together in the spacious dining room, watch movies in the living room and hang out at lunch between classes. There's a large kitchen and a laundry room, and a bathroom on every floor. And the students at Indigehouse have big plans for using the space — they envision dinners with alumni, student mixers, in-house bonding activities, and events that connect residents with the larger Native American Council group on campus, including many events for November's Native American Heritage Month.
"When we heard about the application to get a bigger space, I saw it as an opportunity to get more Indigenous resources," says Pete, a political science and ethnicity and race studies major, with a specialization in Native American/Indigenous studies. "Hannah and I are both seniors, so we're only going to live in this space for a year, but we wanted to have a long-lasting impact."
In their junior year, Jimenez and Pete lived in Manhattan House in the River Hall dormitory, which was then the SIC housing for Indigenous and Native students. (There are 11 SICs on campus, plus the Intercultural Resource Center.) But when they learned that the West 113th Street brownstone was becoming available, they saw the opportunity to claim a homier, more permanent space for future generations of students. The pair, along with Eva Brander Blackhawk CC'24 and Charitie Ropati SEAS'23, submitted a 10-page application and then, as finalists, created a presentation on what the residence would mean for their community.
They are already seeing the benefits. "I'm an intern with the Admissions Office, and I work on Native and Tribal outreach for those communities," Pete says. "It's exciting to tell these students, 'Hey, we have a whole house available that you can live in!' I wish I had been told that when I was researching colleges. To be able to say, 'There's a space here that students are advocating for' — it's been a catalyst for change. I feel like having the building shows that we have a presence."
Jimenez and Pete say they see Indigehouse as a part of the larger movement for Indigenous peoples at Columbia and note the major strides in Indigenous and Native recognition on campus that have happened thanks to the efforts of the students who came before them. In 2010, the University implemented a Native American/Indigenous studies specialization; in 2016, a plaque was installed near John Jay Hall acknowledging that Manhattan and the campus stand on Lenni Lenape land; and, in 2019, the University Senate passed a resolution to recognize Indigenous Peoples' Day at Columbia.
"Kianna and I are just stepping stones to what I hope will be something bigger for Columbia and its Native students," Jimenez says. Adds Pete, "The next step could be anything — this space is the start! If you have a good foundation, there's so much you can do from there."