Wednesday, December 5, 2012
New York Times correspondent Jodi Kantor CC '96 spoke at the Robert K. Kraft Family Center for Jewish Student Life on December 4 in a 90-minute conversation that ranged from politics and the Obamas to journalism, reflections on her own career path and practical advice for students.
About 40 people attended the evening event, which was sponsored by Columbia/Barnard Hillel and moderated by Sarah Darville CC '13, editor in chief of Spectator.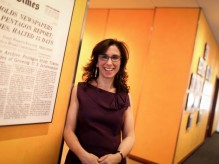 Jodi Kantor (Photo: Daniella Zalcman '09)
Kantor has worked at the Times since 2003, when she became the Arts & Leisure editor at 27. She transitioned to political reporting shortly before the 2008 presidential campaign and went on to cover candidates on both sides of the aisle as well as the start of President Barack Obama CC '83's first term; earlier this year, she published her first book, The Obamas.
By turns funny and frank as well as thoughtful, Kantor found opportunities throughout the night to deliver some straight talk for the assembled students.
"Although I have a few years on you, when I'm here I feel like a student again, and I can relate to the condition of being a Columbia student — of being interested in the world and being unsure what to do with my life," said Kantor, who after graduating didn't see herself becoming a journalist; in fact, she enrolled in Harvard Law in 1998.
Once there, she said, the hairs on the back of her neck began to stand up; she recalled combing through an 800-page book of summer internship listings and realizing that none appealed to her. "That's the question to ask yourself." she said. "What do you do as a lawyer, or as a journalist, at 10 a.m. on a Tuesday? And is that what you want to be doing with your life?"
Kantor left Harvard after one semester and became an editorial assistant with Slate. At the time the online magazine was a start-up, experimental in its approach and exciting to be a part of. Kantor said she and her colleagues sat around the table during brainstorming sessions, asking, "'What if we, what if we, what if we' … If you had 10 ideas, it didn't matter if four were bad and three were impractical.
"And that's what I'd advise you," she said. "If you don't know what you want to do — and be honest with yourself about that — the best thing to do is get a job at the most interesting place you can, a workplace where young people are included. You don't want to sit at your desk and be talking to no one."
Kantor also spoke about her current role as a Washington correspondent. "People ask what my beat is, and you might call it, 'the Obamas are really interesting,'" she said, drawing laughter. Later, she described her work as biographical reporting, adding: "Campaigns use biography as a weapon. Our job is to reach behind the stories they're telling and to tell the real one."
Asked for her take on new media and, specifically, Twitter, Kantor weighed the pros and cons. She pointed to tweeting live events as being particularly worthwhile. "You get to watch with a collective audience that's smarter than the sum of its parts … But if I did it too much, I wouldn't get any work done. The whole point of my job is to get information that's not out there. Also, the best stories are not reducible to 140 characters."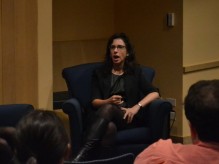 Kantor spoke to students at Hillel (Photo: Ron Shapiro). As the evening wound down, one student asked Kantor to describe the experience of shifting from newspaper reporter to book author.
"I think this relates to the dynamic you're in," she said, drawing parallels between The New York Times and Columbia as respected and well-established institutions. "We all want to work in systems that are safe, orderly and bring reliable rewards. It can be hard to push yourself to take a risk when you have something reliable to fall back on.
"With my own project, [I found] there was a difference between being able to tell someone, 'I'm a New York Times reporter,' and having to tell them, 'I'm working on a book and unsure of how it's going to go.' … At times, I wondered what makes me think I can tell a fresh, new story about the Obamas."
One colleague's advice had particular impact. She said he reminded her that, with reporting projects, "You never know what you're going to find, so all you can ask yourself is, 'Is this a question that's worth reporting out?'
"I think that can apply to your own lives," she added. "In the next few years you'll be asking yourself, should I take this job, try this thing, take this risk? And the only thing you should ask yourself is, 'Is this worth doing?'"