Friday, February 17, 2012
Columbia University President Lee C. Bollinger has appointed John H. Coatsworth, who has served as interim University Provost since last summer, as the permanent Provost of Columbia University.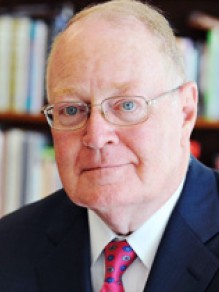 John Coatsworth
Coatsworth is a leading scholar of Latin American economic and international history. He has served as Dean of the School of International and Public Affairs since 2008, was a visiting professor at Columbia University from 2006 to 2007, and served as Interim Dean of SIPA from 2007 to 2008. Prior to coming to Columbia, he served as the Monroe Gutman Professor of Latin American Affairs at Harvard University from 1992 to 2007, where he was founding director of Harvard's David Rockefeller Center for Latin American Studies and chair of the Harvard University Committee on Human Rights Studies. Coatsworth was a member of the faculty at the University of Chicago from 1969 to 1992.
"During the past seven months, John has demonstrated consummate skill in leading Columbia forward on a host of complex matters critical to our future," President Bollinger said in a letter to the University community. "I am, personally, very pleased that John will serve in this vital University role and as my colleague."
Coatsworth is a member of the American Academy of Arts and Sciences, the Council on Foreign Relations, the Board of Directors of the Tinker Foundation and numerous professional associations. He is the former president of the American Historical Association and Latin American Studies Association. He has served on the editorial boards of scholarly journals including the American Historical Review, the Journal of Economic History, the Hispanic American Historical Review and other social science journals published in Britain, Chile, Germany, Mexico, Peru and Spain.
In 1986, Coatsworth was awarded the John Simon Guggenheim Foundation Fellowship. He has served as a Senior Fulbright Lecturer three times, with appointments in Argentina and Mexico, and has received numerous research and institutional grants from public agencies and private foundations. He has acted as a consultant for program design or review to numerous universities and foundations.
Coatsworth received his BA in History from Wesleyan University, and his MA and PhD in Economic History from the University of Wisconsin-Madison. He is the author or editor of eight books and many scholarly articles, focusing on comparative economic, social, and international history of Latin America, especially Mexico, Central America, and the Caribbean.
Click here to read the President Bollinger's letter on the Appointment of John Coatsworth as Provost.