John R. (Rick) MacArthur (CC '78), an award-winning journalist and author and president and publisher of Harper's Magazine, will deliver the keynote address at the 2012 Columbia College Class Day ceremony. The annual event, which honors graduating seniors, will take place on Tuesday, May 15, 2012, on the South Lawn of Columbia's Morningside Heights campus.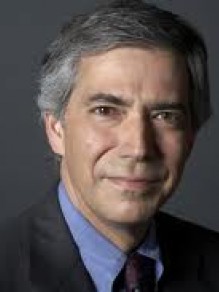 John R. MacArthur
"Rick MacArthur is a tireless advocate for international human rights and his reporting reflects his commitment to fearless journalism. I am really looking forward to hearing from a class day speaker with such intellect, creativity and accomplishments," said James J. Valentini, dean of Columbia College and vice president for undergraduate education (Interim). "We are honored that he has accepted our invitation to return to campus to speak to the graduating class of 2012."
Since 1983, MacArthur has served as president and publisher of Harper's Magazine, the oldest continuously published monthly magazine in America. Under his leadership, the magazine has received 18 National Magazine Awards, the industry's highest recognition. MacArthur also writes a monthly column for the Providence Journal and, in French, for Le Devoir (Montreal) on a wide range of topics from politics to culture.
MacArthur's first book, Second Front: Censorship and Propaganda in the Gulf War, won the Illinois ACLU's 1992 Harry Kalven Freedom of Expression award and was a finalist for the 1993 Mencken Award for books. His critically acclaimed follow-up, The Selling of "Free Trade": NAFTA, Washington, and the Subversion of American Democracy, was published in the spring of 2000. His third bo
Before joining Harper's Magazine, MacArthur, who has a BA in history from Columbia College, was an assistant foreign editor at United Press International and a reporter for the Chicago Sun-Times, the Bergen Record, the Washington Star and the Wall Street Journal. In 1993, he received the Mencken Award for his New York Times op-ed exposing Nayrah Al-Sabah, the Kuwaiti ambassador's daughter who helped fake the Iraqi baby-incubator atrocity.ok, You Can't Be President: The Outrageous Barriers to Democracy in America, was published in 2008.
MacArthur founded and serves on the board of directors of the Death Penalty Information Center and the Roderick MacArthur Justice Center. Along with members of his family, he founded Article 19, the London-based international center on censorship, and in 1989 he initiated and helped organize the PEN/Article 19/Author's Guild rally for Salman Rushdie. He is also on the board of directors of the Author's Guild and is a fellow at the New York Institute for the Humanities.
MacArthur was born on June 4, 1956, in New York City, and grew up in Winnetka, Illinois. He lives with his wife and two daughters in New York City.