Wednesday, September 8, 2010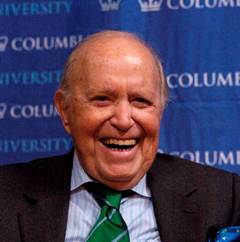 John W. Kluge '37, the billionaire businessman who was one of Columbia's most generous benefactors and who founded the Kluge Scholars Program that benefitted hundreds of current and former College students, died on Tuesday evening, September 7. He was 95.
Born on July 21, 1914, in Chemnitz, Germany, Kluge immigrated when he was 8, grew up in Detroit and earned a scholarship that allowed him to attend the College. "If it hadn't been for Columbia, my path would have been entirely different in life," Kluge said at a celebration of his 90th birthday in Low Library. "Columbia gave me an opportunity, and the only way you can really repay that opportunity is for you to help someone else."
Kluge, the longtime chairman and president of Metromedia, made a $400 million pledge to the University in 2007, the largest gift ever devoted to student financial aid. That brought his philanthropy to Columbia to more than $500 million, including the Kluge Scholars Program, which has enabled more than 500 current and former high-achieving students with less financial means to attend the College; the Kluge Presidential Scholars; the Kluge Faculty Endowment; and other programs.
"John Kluge was a towering figure whose commitment to Columbia and to higher education sets a standard for us all," said Dean Michele Moody-Adams. "He will be dearly missed, even as we continue to benefit from his generosity and his devotion to Columbia and Columbia students."