Wednesday, November 28, 2018
On November 15, Lisa L. Carnoy CC'89, co-chair of the University's Board of Trustees, became the first woman to be awarded the Alexander Hamilton Medal in the 71st year of the award's inception. At the black-tie dinner held in Low Rotunda on a snowy evening, Carnoy, chief financial officer and managing director of AlixPartners, received the highest honor awarded to a member of the Columbia College community for distinguished service and accomplishment in any field of endeavor. The Alexander Hamilton Award Dinner is one of the College's signature fundraising dinners, with this year's proceeds of over $1.2 million benefiting College students, including supporting the Core Curriculum and financial aid.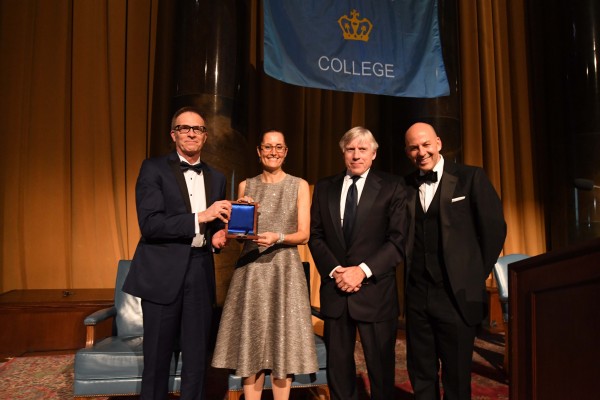 Remarks in Carnoy's honor were given by Michael Behringer CC'89, president of the Columbia College Alumni Association; University Trustees Wanda Holland Greene CC'89, Alexander Navab CC'87, Victor H. Mendelson CC'89 and Abigail Elbaum CC'92, BUS'94; Columbia College Dean James J. Valentini; and University President Lee C. Bollinger. They were joined in celebration by Carnoy's friends and family as well as alumni, faculty and students. The Metronomes closed the evening with rousing renditions of "Roar, Lion, Roar" and "Sans Souci."
Valentini highlighted Carnoy's devotion to Columbia's excellence in his tribute. "She is always pushing the College to do more, be more, aim for more for its students, its faculty, its alumni — and [the] University as a whole," he said. "There seems to be nothing at Columbia that escapes her interest, and their [the people of Columbia] success is the goal of all her efforts on behalf of the University."
"I say this because she is one of a handful of people who identify with the University in ways that inspire everyone else to be part of this institution," Bollinger said. "People who convey the feeling in the most genuine and authentic way, that it is among the highest privileges in life to be connected to Columbia University."
Carnoy opened her speech by describing a love letter she had penned to Columbia Undergraduate Admissions as a prospective student and asserted that her love for the college has never faltered, from her admission in 1985 as part of the third class of women to enter the College to 2018 as co-chair of the University's Board of Trustees.
"This board and our University represents something precious and important and incredibly needed, now more than ever: a confidence that the best of humanity emerges when a world-class institution like Columbia supports people to be fully themselves, challenges them to use their brains in ways they couldn't imagine to solve the world's biggest problems and engages them fully for the purpose of advancing society and all facets of our lives," she said.
At Columbia, along with serving as co-chair on the University's Board of Trustees, she also co-chairs both the College's Core to Commencement campaign and the University's Columbia Commitment campaign. She previously served as vice-chair on the College's Board of Visitors (2008–2010) after serving four terms as a member of the BOV. Her Columbia accolades include a 2007 John Jay Award for professional achievement, the College's Alumna Achievement Award, the University's Alumni Medal, and being named one of the "25 Most Influential Women" by the Columbia-Barnard Athletic Consortium. She co-founded the Women's Leadership Council for Columbia Athletics in 2007.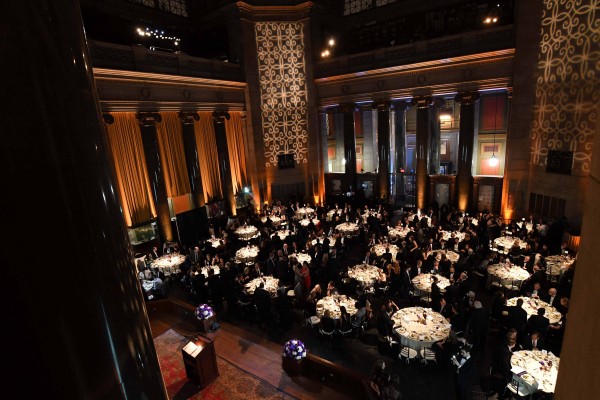 After graduating cum laude from the College — where she studied American studies and history and was a student-athlete in track and field — she received an M.B.A. from Harvard Business School. Before joining AlixPartners in 2018, she spent 23 years as the division executive for the Northeast for U.S. Trust — the private bank within Bank of America Merrill Lynch (BofAML) — and was previously its market president for New York City. Prior to her move to Wealth Management, she was BofAML's head of Global Capital Markets and head of Global Equity and Equity-Linked Capital Markets.
A passionate advocate for diversity, Carnoy co-founded BofAML's Women's Leadership Council. She currently serves as an independent director of the United States Soccer Federation and on the board of the United Way of New York City, has been named on American Banker's list of the most powerful women in finance and, in 2013, received the Merit Award from the Women's Bond Club.