Tuesday, February 24, 2015
Los Angeles Mayor Eric Garcetti CC'92 will deliver the keynote address at the 2015 Columbia College Class Day ceremony. The annual event, which honors graduating seniors, will take place at 9:30 a.m. on Tuesday, May 19, 2015, on the South Lawn of Columbia's Morningside Heights campus.
Garcetti is the 42nd Mayor of Los Angeles and a former president of the Los Angeles City Council, a positon he held from 2006 to 2012. He served as the Council member representing the 13th District of Los Angeles, which includes Hollywood, Echo Park and Silver Lake, from 2001 until taking office as Mayor. Garcetti is Los Angeles' first elected Jewish mayor and its youngest mayor in more than a century.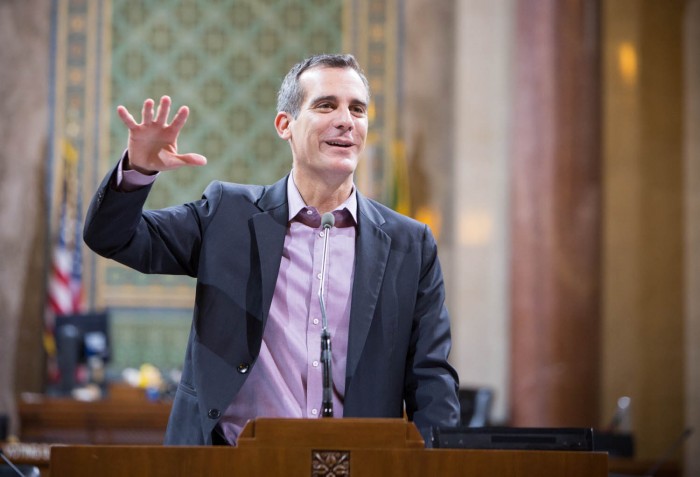 Los Angeles Mayor Eric Garcetti CC'92. Photo: Courtesy L.A. Mayor's Office
Garcetti came to the College as a John Jay Scholar, with aspirations to be an actor, and earned his bachelor's degree in political science in 1992. While at the College, he served on the Columbia College Student Council; was president of the National Student Coalition Against Harassment; volunteered for the Harlem Restoration Project and Habitat for Humanity; founded Columbia Urban Experience (CUE), a pre-orientation program that encourages students to engage in the community and the city; and co-wrote and performed in three years of the Varsity Show, a student-written musical tradition whose past co-writers include Richard Rodgers CC'23, Oscar Hammerstein II, CC Class of 1916, and Lorenz Hart, JRN Class of 1918.
After graduation, Garcetti earned his master's degree in International Affairs from the Columbia University School of International and Public Affairs (SIPA), studied as a Rhodes Scholar at Oxford and the London School of Economics, and undertook research and human rights missions in East Africa. Prior to his election to the Los Angeles City Council, he was a visiting instructor of International Affairs at the University of Southern California and an assistant professor of Diplomacy and World Affairs at Occidental College.
Garcetti is a Lieutenant in the U.S. Navy reserve and an avid jazz pianist and photographer. He has acted on television in The Closer and All My Children and in the feature film End of Watch. He and his wife, Amy Elaine Wakeland, have a 3-year-old daughter, Maya.
"We are honored that Eric Garcetti CC'92 has accepted our invitation to return to campus to speak to the graduating class of 2015. Eric was on the Columbia College Student Council, performed in the Varsity Show, and rowed freshmen crew. He left a special legacy at the College, as the founder of CUE, which has introduced generations of Columbians to the city and the community," said James J. Valentini, dean of Columbia College and vice president for Undergraduate Education. "Eric, now the mayor of Los Angeles, the nation's second largest city, is one of our most distinguished former students. We are looking forward to welcoming him back to campus for Class Day."