Nilay Kumar CC '15, a mathematics and physics major from Potomac, Maryland, has received a prestigious Josephine De Karman Fellowship, which recognizes and assist students whose scholastic achievements reflect those of the late Dr. Theodore Von Karman, a world renowned aeronautics expert and teacher and the first director of the Guggenheim Aeronautical Laboratory at the California Institute of Technology.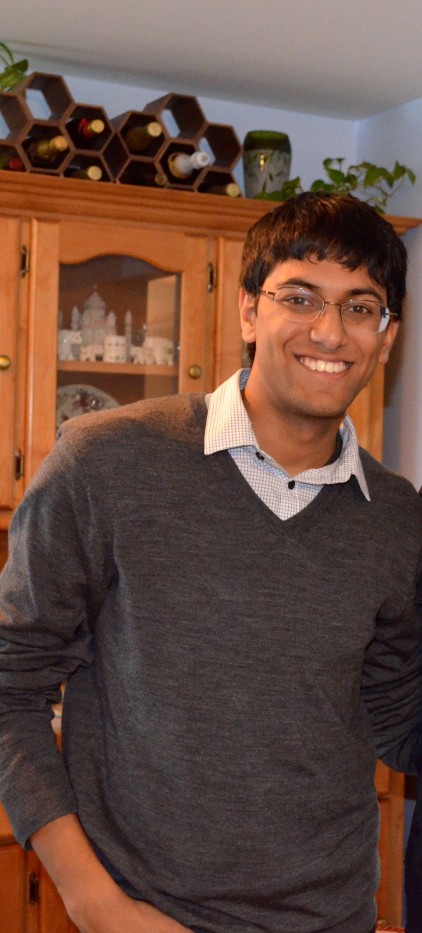 Photo: Courtesy Nilay Kumar CC '15
A scholar in the I.I. Rabi Scholars Program, Kumar has been involved in research throughout his time at the College. He spent the summer after his first year working on particle physics research with Emlyn Hughes, professor of physics, at CERN in Switzerland and has since become interested in the theoretical and mathematical aspects of physics, focusing on mathematics research, including differential and algebraic geometry, as well as representation theory. He plans to pursue a graduate degree in mathematics and conduct research in mathematical physics.
"This is a particularly exciting time of union between the fields of mathematics and physics," Kumar said. "Deep questions involving topology, geometry, and quantum field theories are now approachable from a number of perspectives, and hence are currently at the heart of great activity and progress in both mathematics and physics. I am awed by how math builds deep connections between pure abstraction and physical reality and am truly excited to take part in such a historic intellectual undertaking."
The Josephine De Karman Fellowship Trust was established in 1954 by the late Dr. Von Karman in memory of his sister, Josephine, who passed away in 1951. Each year, the trust awards approximately eight fellowships, out of more than 400 applications, to undergraduate and graduate students of any discipline studying at a college or university in the United States. As an undergraduate fellow, Kumar will receive $14,000 in merit scholarship.
"I'm incredibly honored and excited to be recognized by the De Karman Fellowship Trust, but above all very grateful to the Columbia community," Kumar said. "My peers, advisors, and faculty are a constant source of inspiration."