Speaking on a panel of translators before an audience of Literature Humanities students, Richard Pevear and Larissa Volokhonsky burst into laughter while discussing the humor in many of Dostoevsky's works. The pair, who translated the version of Crime and Punishment that is being taught in Lit Hum this spring, discussed how Dostoevsky's reputation as a dark writer is partially based on English-language translations which often miss the humor and wordplay found in the original texts.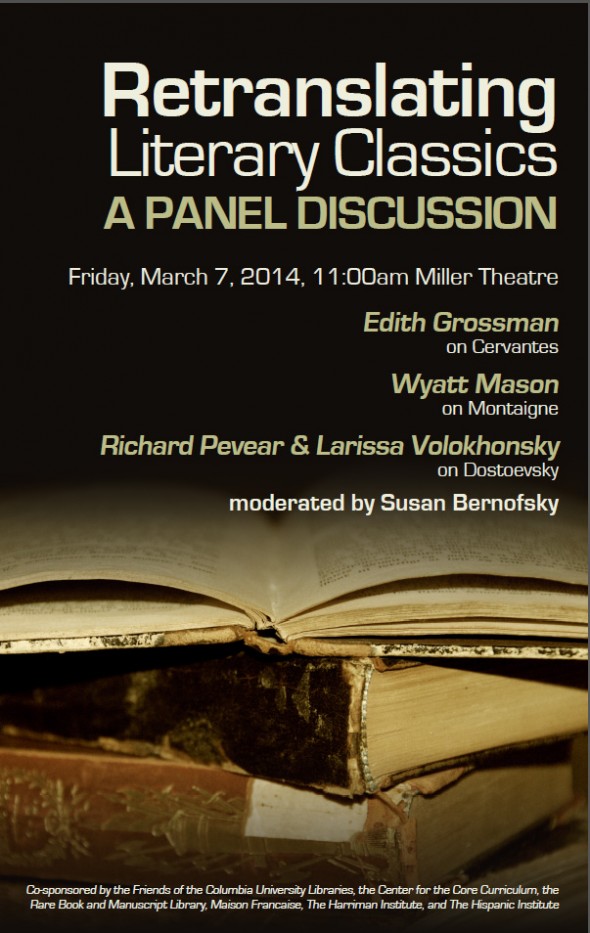 "Retranslating Literary Classics: A Panel of Cervantes, Montaigne, and Dostoevsky" "Retranslating Literary Classics: A Panel of Cervantes, Montaigne, and Dostoevsky," this spring's Literature Humanities Course-wide event, was held on March 7 in Miller Theatre and moderated by Susan Bernofsky, director of literary translation at Columbia. Pevear and Volokhonsky were joined on the panel by Edith Grossman, whose translation of Cervantes's Don Quixote is used in Lit Hum, and Wyatt Mason, who spoke about translating Montaigne's Essays. Roosevelt Montas CC '95, director of the Center for the Core Curriculum, opened the special event by explaining how the wide variety of works in the Lit Hum course speak to the human existence. "When we look at these texts, we are trying to make sense of our inner world," he said.
The panelists examined how the reading experience is changed when a text is read outside its original language and how the Core Curriculum's Lit Hum classics are experienced primarily as translated works. They described how modern translations can bring new aspects of older works alive and explored how the different stylistic choices of translators affect readers' perceptions. Bernofsky also raised the ideas that, "classics don't age, but translations do," and that new generations of readers find meaning in different translations.
Questions of voice and style often play into the decision to create new translations — the desire to better capture authors' personal style quirks was frequently cited by the panelists as their motivation to create new interpretations of the classics. Mason touched on how translators aspire to different goals while working on a piece, noting how some strive for literal fidelity while others try to emulate the general tone more than the exact words. Grossman said she chose the modern tone of her translation of Don Quixote to match Cervantes' style despite the more than 400 years between his original work and her interpretation because, "Cervantes was not writing anything quaint, he was pushing the envelope."
Literature Humanities is an experience in reading translations, since a majority of the curriculum was not written in English. For first-year students working through the Core Curriculum, or for anyone who wants to go back and examine the Lit Hum classics, the panel was a fascinating look into the nuances of translation.