Sasha DiGiulian CC'16, a professional rock climber and three-time U.S. National rock climbing champion, has been selected as one of Glamour's 2016 "College Women of the Year."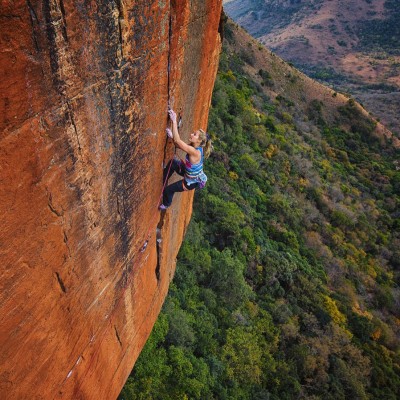 Photo: Red Bull Content Pool/Keith Ladzinski DiGiulian, along with her fellow winners, is profiled in the May 2016 issue of the national magazine, as well as on Glamour.com. She has been awarded a cash prize, along with a special weekend program in New York, and will be honored at an awards ceremony on Wednesday, April 27.
DiGiulian, a creative writing major with a special concentration in business management from Alexandria, Va., first began rock climbing when she was six-years-old. She won the 2011 World Championships for Female Overall, and has placed silver in the Bouldering World Championships. She has been the undefeated PanAmerican champion since 2004.
In 2015, DiGiulian became the first woman to free climb the Magic Mushroom route of the North Face of the Eiger Mountain in the Swiss Alps, nicknamed Murder Wall. In addition, she has been the first woman to conquer 26 of the world's most challenging rock faces. She is also the first North American woman and the third woman in the world to climb the grade 9a, 5.14d, recognized as one of the hardest sport climbs ever achieved by a woman (she has done two).
"I am honored, thankful, and thrilled to be a recipient of Glamour's 'Top 10 College Women of the Year' award. Being recognized in the company of such inspiring women for my efforts in climbing demonstrates the future progression of the sport and celebration of women in sports in general,"  DiGiulian said. "Achieving gender equality in pay, opportunity, coverage, and respect is something that I feel very strongly about, [and so] I have chosen to donate my prize money to the Women's Sports Foundation."
DiGiulian serves as an Athlete Ambassador for Right to Play, Up2Us, Women's Sports Foundation, Outdoor Foundation and HERA Women's Cancer Foundation. She is an Athlete Representative on the board of the International Federation of Sport Climbing and has won numerous awards, including the American Alpine Club's Cutting Edge Athlete Award for 2014 performance, the Golden Piton Award and the Arco Rock Legend Award for Outstanding Achievements in the Outdoors.
In addition to climbing, DiGiulian's writing has been published in National Geographic, Outside Magazine, Rock and Ice, SELF, Seventeen and Crave.
Glamour's "College Women of the Year" competition has recognized students nationwide for "their campus leadership, scholastic achievement, community involvement, and unique, inspiring goals" for 59 years. Past winners have included Martha Stewart BC'63 and former Dallas mayor Laura Miller.
Read more about DiGiulian in Columbia College Today.