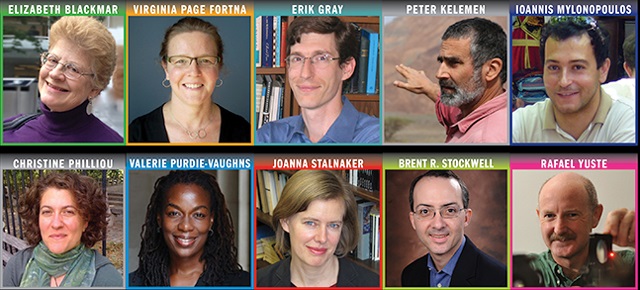 Ten faculty members will be honored this year with
Lenfest Distinguished Teaching Awards
. They include two historians and two biologists, with the rest spread across the departments of earth sciences, psychology, political science, English, French, and art and archaeology. Some were nominated by their students, others by their department chairs. One honoree joined Columbia five years ago, while another has been here for more than two decades. The awards were created in 2005 by Gerry Lenfest LAW '58, HON '09, a trustee emeritus whose total donations of more than $100 million place him among Columbia's most generous benefactors. His $12 million gift for the teaching awards honors exceptional instruction and scholarship, with a special emphasis on the mentoring of students in the arts and sciences.
Honorees regularly speak of the excitement that they get in imparting their knowledge to students. Rafael Yuste, a professor of earth and environmental sciences, says that interacting with his students helps him to expand his own thinking. Environmental scientist Peter Kelemen points out that "a key to teaching is to share a sense of how much there is still to learn." French professor Joanna Stalnaker hopes that her students will "discover with me the strangeness and freshness of works from other periods of history and in other languages than English." Perhaps psychology professor Valerie Purdie- Vaughns CC '93 summarizes it best: "I treat my students as scholars and they become scholars," she says.
 
Elizabeth Blackmar, Professor, Department of History
Blackmar joined the Columbia faculty in 1983. An expert in urban and social history, she has written about property rights, real estate investment trusts, Central Park and the housing market. Her latest work in progress is titled "American Alchemy: The Vexed Relation of Land and Capital." Blackmar says, "A good teacher and a good student are the same thing—someone who prepares, asks questions, listens and rethinks." Her lecture course, "Making of the Modern American Landscape," pays homage to her teacher at Harvard, the cultural geographer John Brinckerhoff Jackson, who four decades ago inspired her. Blackmar says she hopes to "impart to students something of his curiosity and powers of observation." History Department Chair Mark Mazower credits her for workshops that prepare graduate students to write dissertations and go on the job market, adding, "Many undergraduates who have gone on to graduate work and professional lives in history credit Professor Blackmar with inspiring them to devote their careers to the study of history."
Virginia Page Fortna, Professor, Department of Political Science
Fortna teaches courses tied to her research about the aftermath of war, including how wars end, the durability of peace, and the causes and effects of terrorism in civil wars. The chair of the Political Science Department and a professor at the Saltzman Institute of War and Peace Studies, she says "excitement about the material" is the most important quality of a good teacher—and also of a good student. "I try to keep the discussion informal and to get everyone in the class participating," she said. She begins her seminar on "Ending Wars and Keeping Peace" by asking students, "what is war?" That gets everyone engaged right away. She is the author of two books, Does Peacekeeping Work? Shaping Belligerents' Choices after Civil War and Peace Time: Cease-Fire Agreements and the Durability of Peace. Fortna especially likes teaching seminars, when she "can get students engaged with the material, debating questioning and thinking critically." She came to Columbia in 1999 after earning a Ph.D. from Harvard and says she tries to emulate her graduate adviser, as well as an undergraduate mentor at Wesleyan, who pushed students hard without ever being harsh. "I have found that students generally rise to the occasion when standards are set high and discussions are respectful and thought-provoking," she says.
Erik Gray, Associate Professor, Department of English and Comparative Literature
Gray, an associate professor of English and comparative literature, explores how poetic traditions are formed. An expert in Romantic and Victorian poetry as well as English literature and the classics, he is currently researching the development of love poetry in the West since classical times. "It's a very easy subject to teach," Gray noted. "Somebody once characterized love as 'the only subject in which everyone is interested.'" A Columbia faculty member since 2004, Gray's first book examined the role of indifference in 19th century poetry, while his second traced the influence of Milton on Victorian literature. Gray prepares assiduously for class, a habit from teaching while in graduate school at Princeton. "I think the best way to teach well is to feel as wholly at ease as possible," he says. "I still find that the best way to do that is to prepare obsessively, so I do." His courses on Victorian and Romantic poetry regularly draw more than 100 students. The department chair, Nicholas Dames, writes that such enrollment "would have seemed unimaginably large prior to his arrival."
Peter Kelemen, Professor, Department of Earth and Environmental Sciences
Kelemen has done fieldwork across the globe, from Alaska and the Pacific Northwest to Greenland, Oman and India. The Arthur D. Storke Memorial Professor in the Department of Earth and Environmental Sciences, Kelemen joined the Columbia faculty in 2004 from the Woods Hole Oceanographic Institution. "A key to teaching is to share a sense of how much there still is to learn, and how exciting this potential really is," he says. While he emphasizes data in his courses that show the nearly exponential growth rates of resource consumption, "I try to emphasize humility about our ability to predict the future," he said. Keleman asks students to suggest exam questions and then edits the list, promising that they will see some of them on the final. Kelemen says he has always been fascinated by "patterns that form where fluid flows through and reacts with rocks beneath the earth's surface." He has done geologic mapping in the Himalayas and worked as a mineral exploration consultant, mapping and sampling ore deposits in steep terrain. He has a B.A. in earth sciences from Dartmouth and a Ph.D. from the University of Washington.
Ioannis Mylonopoulos, Assistant Professor, Department of Art History and Archaeology
Educated in Athens and Heidelberg, Germany, the globe-trotting Mylonopoulos has taught at the Sorbonne and the Universities of Heidelberg, Erfurt (Germany), and Vienna. A versatile scholar who is an assistant professor of art and archaeology, he has studied Greek and Roman depictions of the divine, Greek sanctuaries and terracotta figurines as votive objects. In his research, questions he finds interesting include, "How did societies move from polytheism to monotheism and how did this inform their artistic approach to depictions of the divine?" Another area of interest examines the understanding of sacred space and sacred architecture. A member of Columbia's faculty since 2008, Mylonopoulos is also interested in the depiction of violence in ancient art and how it dominates our modern visual culture. This spring he is teaching an undergraduate course on the Athenian Acropolis. This summer, Mylonopoulos will start Columbia's first excavation in Greece. He held research fellowships at Oxford, Harvard University's Center for Hellenic Studies and the Institute for Advanced Study in Princeton. In 2011, he received a Faculty Mentorship Award for graduate teaching and mentorship. He says, "A good teacher should welcome questions but never deliver all the answers," thereby helping students find their own solutions to problems.
Christine Philliou CC '94, Associate Professor, Department of History
Philliou is an associate professor of history specializing in the post-16th century history of the Ottoman Empire and the post-Ottoman Balkans and Middle East. She joined the Columbia faculty in 2006 and her first book, Biography of an Empire: Governing Ottomans in an Age of Revolutions, was published in 2011. In her research and her classes, she tries to challenge the way we understand these regions today. "I try to move students out of their comfort zone into an area where they have to question their own assumptions, usually about the Middle East but also about nationalism and divisions like East and West," she says. Philliou, who earned a master's degree and Ph.D. from Princeton, says a professor in graduate school influenced her teaching style by assigning readings from vastly different genres—political history, local chronicles, visual evidence and music, for example—rather than relying solely on the usual sources. While she doesn't focus on current issues in the Middle East, the lessons she's learned in her research are highly relevant to understanding that part of the world today. "It is crucial to see the region as one with multiple dynamics and not an inert space waiting for Europeans, and then Americans, to bring change," she said.
Valerie Purdie-Vaughns CC '93, Assistant Professor, Department of Psychology
Before she joined the Columbia faculty in 2009, Purdie-Vaughns worked for the I Have a Dream Foundation, a nonprofit that provides college scholarships to disadvantaged students. She also spent three years as a research assistant for Columbia psychology professor Geraldine Downey and earned a Ph.D. at Stanford, where her adviser was Claude Steele, who later was provost at Columbia. Now an assistant professor of psychology, Purdie-Vaughns says her teaching has been informed by her research on how the experiences of underrepresented groups in society—racial and religious minorities, the disabled, lesbians, gays and bisexuals, and even women in science—affect behavior. "I always try to look at students in the context of their lives, the pressures they're under and how it affects them," she says. "Teachers have to care about the whole student." She says she learned a lot about teaching from her mother, a third-grade teacher in Bay Shore, N.Y., and from observing young students in her research. She herself was a "middle-of-the-road, typical under-achieving student" as an undergraduate, she says. She looks for students like that in her classes "to offer them the possibility to see themselves as a scholar."
Joanna Stalnaker, Associate Professor, Department of French and Romance Philology"
When Stalnaker arrived at Columbia in 2002, she attended Professor Kathy Eden's seminar for new teachers of Literature Humanities, which made a strong impression. "I learned from her how a close reading of a short passage could reveal the broadest themes and problems of a work— in a way that I have tried to emulate ever since," says Stalnaker. Now an associate professor of French who studies how literary forms shape philosophic thought, Stalnaker sees her teaching style as collaborative. "A good teacher is also a good listener, someone who is open enough in the classroom to learn from her students." Her popular French theater course concludes with students giving a public performance of one of the plays they study. "Good students are those who ask hard questions of themselves, of me as a teacher, and of the texts we read together," she says. Stalnaker directs two master's degree programs at Columbia's Global Center at Reid Hall in Paris. She is currently at work on a book about how the Enlightenment ended in France.
Brent R. Stockwell, Associate Professor, Department of Biological Sciences
Stockwell studies the mechanisms of cell death in mammals and their relationships to cancer and neurodegenerative diseases. His work on "undruggable" proteins, the proteins in the human body not treatable with traditional drugs, is a feature of his book, The Quest for the Cure: The Science and Stories Behind the Next Generation of Medicines. Trained at Harvard and Cornell, he joined the faculty in 2004 and has joint appointments in the Departments of Biological Sciences and Chemistry. He is an early career scientist of the Howard Hughes Medical Institute and a member of the Motor Neuron Center and Cancer Center at the Medical Center. This year, Stockwell moved from a pure lecture course to more interaction with students to better communicate the excitement at the frontiers of science. "A good teacher tries to understand what each student brings to the course in terms of their own beliefs and background, and helps the student construct new knowledge on top of those existing beliefs," he says. Outside the classroom, Stockwell chairs the Provost's Faculty Advisory Committee and serves on the Rabi Faculty Committee choosing the best high school science students for recruitment to Columbia.
Rafael Yuste, Professor, Department of Biological Sciences
"Understanding how the brain works is my passion," says Yuste, a professor of biological sciences and co-director of the Kavli Institute for Brain Science. "I want to understand the human mind from the inside." Yuste's laboratory is home to the Brain Activity Map Project, a research effort to record neural activity and understand fundamental and pathological brain processes; a proposal he made inspired President Barack Obama's initiative to advance deeper understanding of the brain. Yuste, who has an M.D. from the Universidad Autónoma in Madrid, Spain, and a Ph.D. from Rockefeller University, joined the Columbia faculty in 1996 and teaches a course in brain function and development and a tutorial on circuits in the brain. He says he learns from his students—"They force me to rethink my assumptions"—and would like to see more tutorials at Columbia. "The more direct contact the better." Yuste invites students to dinner at his home, where they can talk about anything except the class. "When students and teachers engage intellectually as well as emotionally, magic happens."
By Georgette Jasen and Gary Shapiro. This article originally appeared The Record. 
Related Links