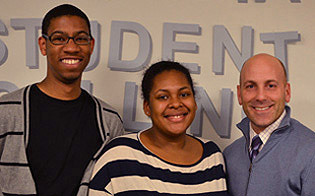 Annual fund student callers Brandon Lewis '13 and Diane Jean-Mary '13, pictured here with Jeff Richard, v.p. for University development, each raised $100,000 in pledges. Most weeknights, students working in the Student Calling Center — located on the lower level of the Columbia Alumni Center — make telephone solicitations on behalf of 16 annual funds at Columbia. CloEve Demmer, University director of annual fund programs, announced that two veteran student callers, Brandon Lewis '13 and Diane Jean-Mary '13, had each crossed the $100,000 threshold in terms of the pledges they secured single-handedly. Lewis and Jean-Mary are both in their second year as student callers.
"Brandon and Diane are truly shining stars," says Demmer. "They work a lot of hours, but they're also proven performers who secure pledges on a greater percentage of their calls than others. We have 50 or so student callers, and the next-highest individual total is about $70,000, so it's really quite remarkable for anyone to reach this level."
"The best part of my job is the connections I make with alumni," says Jean-Mary, a film studies major from Long Island. "They're interesting to talk to and have great advice for me as an undergraduate." Lewis, an urban studies major from Atlanta, loves the richness and diversity of the alumni community — he says it gives him hope that "there's life beyond Columbia."
All told, student callers collectively spend more than 6,000 hours speaking to prospective donors during the year. So far this year, the group has raised about $1 million and, Demmer says, is on pace to raise more than $1.2 million for the University by May 15, which allows until June 30 for pledges to be fulfilled.