Tuesday, January 26, 2016
The Robert D.L. Gardiner Foundation, established by Robert David Lion Gardiner CC'32, has donated $3 million to the Columbia University Faculty of Arts and Sciences to establish the Robert Gardiner-Kenneth T. Jackson Professorship in the history department. The new chair, named after Kenneth T. Jackson, the Jacques Barzun Professor of History and the Social Sciences, will focus on teaching New York history, Jackson's specialty.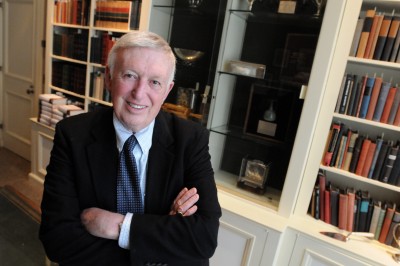 Photo: Eileen Barroso "Having dedicated my entire professional life to the study of cities and, in particular, New York, it is a singular honor to have this chair established in my name, and to share it with Robert Gardiner, another proud New Yorker – and Columbian," said Jackson. "It is a real source of pride to know that Columbia will maintain its storied tradition of teaching and studying about the great city and state that we call home."
Jackson has taught at Columbia for nearly 50 years and is currently the director of the Herbert H. Lehman Center for the Study of American History. He has written several notable books on American history, including Crabgrass Frontier: The Suburbanization of the United States and the landmark Encyclopedia of New York City. He is the recipient of numerous fellowships and honorary degrees.
"Outstanding professors and teachers like Ken Jackson are one of the reasons I can say we are the greatest college in the greatest university in the greatest city in the world," said James J. Valentini, dean of Columbia College and vice president for undergraduate education. "Ken is loved by current and former students for his creativity inside and outside the classroom, and for his enthusiasm about the material he studies and teaches."
Jackson is well known by College students for his creative teaching methods, which include taking students in his "History of New York" class on a midnight bike ride from Morningside Heights to Brooklyn. Along the way, he stops to explain the history of different places. Decades of alumni consider the ride one of their most cherished Columbia memories.
The Robert D.L. Gardiner Foundation, established in 1987, was inspired by Gardiner's passion for history. The foundation primarily supports the study of New York State history, with an emphasis on Suffolk County.
"We are extremely grateful to the Gardiner Foundation for having the vision to ensure the legacy of both its namesake, Robert David Lion Gardiner and beloved Columbia professor Kenneth T. Jackson, by endowing this chair," said David Madigan, executive vice president and dean of the Faculty of Arts and Sciences.
The total endowment will amount to $4 million in combination with a preexisting $1 million fund.
"This gift ensures that our mission — fostering the appreciation of New York history – will continue to thrive at the university that calls New York home," added Joseph R. Attonito, president of the Robert D. L. Gardiner Foundation.