Angelo Hernandez-Sias CC'20, a double major in English and comparative literature and creative writing, has won the prestigious Beinecke Scholarship. He is the thirteenth awardee from Columbia University since the first Beinecke Scholarships were granted in 1975.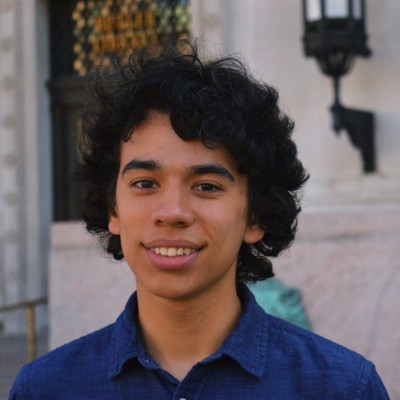 Photo courtesy Gabby Jones SEAS'20
The Beinecke Scholarship seeks to encourage and enable highly motivated juniors of exceptional promise to pursue graduate study in the arts, humanities and social sciences. With 136 participating institutions from across the U.S., each school may nominate one candidate per year; the campus nomination process is highly competitive. This year, the Beinecke Scholarship Program received 90 nominations, from which 18 scholarships were awarded.
Hernandez-Sias, who hopes to pursue an M.F.A. in creative writing and Ph.D. in English/comparative literature, is particularly interested in an oral-archival research approach to fiction writing. The Mellon Mays fellow developed his practice having interviewed his extended Panamanian family for years, by examining representations of state violence in border zone literature during his fellowship, and through transcribing and archiving the collected works of the poet Jack Agüeros at Columbia's Rare Books and Manuscripts Library. Hernandez-Sias currently serves as the director of operations and engineering at WKCR-FM and is co-founder of the show Urbano Latinx. His stories, essays and songs have appeared or are forthcoming in Quarto, Ratrock, The Adroit Journal, The Columbia Journal of Literary Criticism, Teen Vogue and elsewhere.
"Angelo is an outstanding student, whose interests in creative writing and literary criticism come together in innovative, exciting ways," said Ariella Lang, associate dean of Academic Affairs and director of Undergraduate Research and Fellowships. "We're delighted that the Beinecke Scholarship has recognized his past achievements and his bright future by providing him with this wonderful opportunity."
The young writer from Muskegon, West Michigan, is grateful for his Columbia experience thus far. "I'm surrounded by committed teachers, mentors, peers and peer-mentors who challenge and inspire me to grow as a reader and writer," said the graduate from Columbia's Academic Success Program. "I'm able to experience the rich array of events, publications, and shows that student groups and departments put together. Engaging with these communities has been integral to the development of my own creative practices."

The Beinecke Scholarship selection committee comprises alumni from the fields the scholarship covers — the arts, humanities and social sciences. The last winner from Columbia College was Sophie Wilkowske CC'17 in 2016, who is currently undertaking a Ph.D. in history at Harvard. Over the years, Beinecke alumni have found positions in a variety of fields, including academia, the public sector, think-tanks, the arts and even the private sector.