Monday, February 27, 2023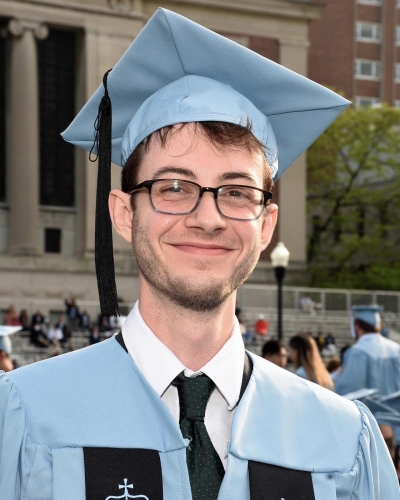 Coleman Yorke CC'20 and Sarah Toscano GSAS'23 have been named 2023 Luce Scholars. Established in 1974, the Luce Scholars Program offers early-career leaders yearlong immersive, professional experiences in Asia, providing stipends, language training and individualized professional placements. Eighteen scholars total were chosen from a record number of applications this year.
Coleman Yorke CC'20
Yorke was born and raised in New York City. He majored in English with a concentration in psychology, specializing in 19th-century Victorian literature and its connection to the formation of character via models of attachment theory. As an undergraduate he was an editor of The Columbia Review, mentored high schoolers navigating the college application process through the Double Discovery Center and volunteered in patient escort services at Memorial Sloan Kettering Cancer Center.
Yorke completed an M.Sc. in clinical and therapeutic neuroscience at Oxford, where he focused his dissertation projects on adolescent peer support programs and the cognitive learning effects of antidepressants in younger individuals. An aspiring child and adolescent psychiatrist, Yorke is currently completing his medical school requirements through a premedical postbaccalaureate program at Bryn Mawr College.
In his spare time, he loves to rock climb, read novels (especially those by Edith Wharton, Henry James and George Eliot) and participate in trivia with friends.
As a Luce Scholar, Yorke says he looks forward to engaging with the cultural nuances of mental health in a community outside of the American and Westernized healthcare systems he has worked within thus far. In doing so, he aims to establish more equitable and competent cross-cultural mental healthcare.
Advice for Prospective Applicants
Yorke notes: "The fellowship application process is in many ways not a linear one; it's about finding an opportunity that's really right for you and that you connect with on a personal level. I went through several unsuccessful application rounds before finding the Luce and realizing that it aligned perfectly with my personal and professional interests. If you feel strongly that an opportunity is meaningful to you, don't ever be afraid to throw your hat in the ring."
---
For more information about the Luce Scholarship, please reach out to Undergraduate Research and Fellowships.