The Academic Awards Committee of the Columbia College Student Council awarded Hamid Dabashi, the Hagop Kevorkian Professor of Iranian Studies and Comparative Literature, and Achille C. Varzi, the John Dewey Professor of Philosophy, the 48th annual Lionel Trilling Book Award and the 62nd annual Mark Van Doren Award for Teaching, respectively.
Dabashi was honored for his book The End of Two Illusions: Islam after the West (2022), which, according to the committee, "beautifully addresses the relationship between Islamic and global history." Varzi was awarded for "investing significant amounts of time, thought and resources into creating an optimal learning environment for his students, paving the way for pedagogical exploration and unforgettable experiences during their time at Columbia."
---
Hamid Dabashi, 2023 Trilling Book Award Winner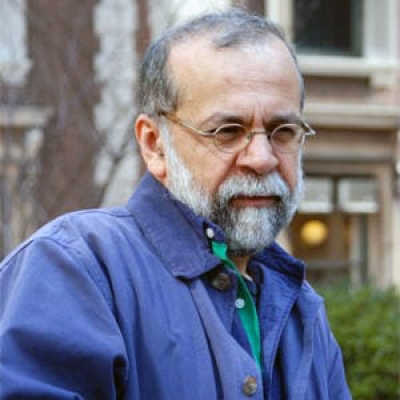 The Lionel Trilling Book Award, established in 1976 in honor of Lionel Trilling CC 1925, GSAS'38, is awarded annually to a member of the faculty whose book was published in the previous year and upholds a level of excellence commensurate with Trilling's legacy. Trilling, a gifted and dedicated Columbia professor committed to undergraduate education, was also a public intellectual known for his scholarship and literary criticism.
Dabashi has written more than two dozen books, edited four and contributed chapters to many more. He is also the author of more than 100 essays, articles and book reviews on subjects ranging from Iranian and Islamic studies to comparative literature, world cinema and the philosophy of art. His books and articles have been translated into more than a dozen languages.
The committee selected Dabashi because they appreciated the "multidimensional view provided by the remarkable balance between cogent analyses of contemporary phenomena and deep dives into history and culture."
Dabashi is the director of undergraduate studies for the Department of Middle Eastern, South Asian, and African Studies (MESAAS), where he previously was chair and director of graduate studies. He is a founding member of the Institute for Comparative Literature and Society and the Center for Palestine Studies, and has chaired the Columbia College Committee on the Core. Dabashi also is the founder of Dreams of Nation, a film project committed to the preservation and promotion of Palestinian cinema.
---
Achille C. Varzi, Mark Van Doren Award for Teaching Winner
The Mark Van Doren Award for Teaching was established in honor of Mark Van Doren GSAS 1920, a Pulitzer Prize-winning poet, novelist, playwright, critic, editor and biographer, as well as a renowned scholar and legendary Columbia faculty member. It has been awarded annually since 1962 in recognition of a faculty member's "humanity, devotion to truth and inspiring leadership."
Varzi, who was educated at the University of Trento in Italy, earned a Ph.D. in philosophy from the University of Toronto and has been a member of the Columbia faculty since 1995. He teaches an array of undergraduate and graduate classes in logic, metaphysics, the philosophy of language and the history of philosophy. He has also taught in the Prison Education Program, sponsored by Columbia's Justice-in-Education Initiative.
The committee chairs recognized Varzi as an "enthralling lecturer" who has the "ability to engage students both inside and outside the classroom." His evident passion for his work, combined with his thorough and compassionate approach to teaching, made the committee — and his students — feel that he "made symbolic logic exciting." One committee member described his teaching as the "embodiment of devotion to truth."
Varzi has authored numerous books in analytic philosophy, most recently 2001's Mereology, and he is an editor for several journals and book series, including The Journal of Philosophy and The Stanford Encyclopedia of Philosophy. Varzi has also published philosophical stories for children and adults, one of which, Insurmountable Simplicities (co-authored with Roberto Casati), has been translated into 10 languages and was adapted for a 2019 play by Natalie Glick BC'09 for the New York International Fringe Festival. Varzi's current project is a monograph on borders, boundaries and other "powerful thin lines."
---
About the Academic Awards Committee
The Academic Awards Committee of Columbia College is composed of 12 students who represent a cross section of classes and majors. The group meets throughout the academic year to determine the book and professor most fitting for awards, reading the books of Trilling Award nominees and auditing the courses of Van Doren Award nominees.
Trilling Award nominations are considered for style, accessibility, scholarship, relevance and whether the committee would recommend the book to their peers. Van Doren Award criteria includes class presentation of material, undergraduate community involvement and mentorship of students. Dabashi and Varzi will be recognized at an awards ceremony on Wednesday, May 3