Brian Trippe CC'16, a biochemistry and computer science major, has won a prestigious Goldwater Scholarship, the premier undergraduate award in the fields of mathematics, the natural sciences and engineering.
Trippe, a native of Cambridge, Mass., has done research with Martin Chalfie, the William R. Renan Jr. Professor of Biological Sciences, since his first year at Columbia. His research focuses on exploring the intricacies of complex cell systems, specificially the molecular factors and processors that allow a wide variety of different neuronal types to develop from a single fertilized cell.
Trippe has also worked with a team at Google Research, called Google Accelerated Science, on developing algorithms to analyze mechanical forces on clusters of cells that develop and live in breast tissue, as well as the effect of these forces on the progression towards potentially cancerous cell-fates.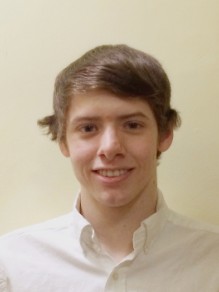 Brian Trippe CC'16
In addition, he is a teaching assistant for mathematics and advanced programming courses and the vice president of the Columbia Club Water Polo team.
Trippe plans to pursue a Ph.D. in computational biology, conducting research in biology using cutting-edge computer science, and ultimately hopes to work in an academic position at a research university.  
The Goldwater Scholarship program is a federally-endowed program honoring former U.S. Senator Barry Goldwater. The program, which was designed to foster and encourage outstanding students to pursue careers in the fields of mathematics, the natural sciences and engineering, provides up to $7,500 per year in scholarship support for recipients. Since its first award in 1989, the foundation has bestowed 7,428 scholarships worth approximately $48 million.
Trippe is one of 260 sophomores and juniors from across the United States to receive a scholarship for the 2015–2016 academic year. Ritish Patnaik SEAS'16, a biomedical engineering major, also received program honors in this year's Goldwater competition. Sarah Berlinger SEAS'16, a chemical engineering major, earned an honorable mention.
The 2015 Goldwater Scholars were selected on the basis of their academic merit from a field of 1,206 mathematics, science and engineering students who were nominated by the faculties of colleges and universities nationwide. Each school can nominate up to four undergraduates.