Monday, November 25, 2013
Lillian Jin CC '13 has been selected as one of 12 recipients of a prestigious George J. Mitchell Scholarship. Mitchell Scholarships provide a year of study in an Irish university in either the Republic of Ireland or Northern Ireland. Recipients are selected based on their excellence in scholarship, potential for leadership and promise of offering community and public service.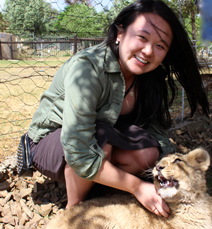 Photo courtesy of Lillian Jin.
Jin, who is currently a Princeton in Africa Fellow supporting a World Health Organization grant for HIV/TB co-infection, community outreach events and psychosocial support in Lesotho, will use the Mitchell Scholarship to study public health at University College of Dublin.
"Columbia is thrilled that Lillian has won the Mitchell Scholarship," says Michael Pippenger, dean of undergraduate global programs and assistant vice president for international education. "The award recognizes young scholars who use their intellectual brilliance in the service of others and Lillian is a more than worthy recipient. The leadership she has shown in the field of AIDS prevention and her work with HIV positive people is quite remarkable. We are proud of all she has accomplished and wish her all the best as she continues her studies in Ireland next year."
While at the College, Jin, who is from Newton, Penn., double-majored in biology and English. Throughout her undergraduate career she pursued many health-related opportunities, working at the Columbia University Medical School Departments of Pharmacology and Pediatrics, the Mount Sinai Medical School Department of Emergency Medicine, and the Mailman School of Public Health Program on Forced Migration and Health. She was co-president and Hilltop Summit Coordinator for GlobeMed at Columbia University, a GlobeMed chapter which works with Gulu Women's Economic Development and Globalization (GWED-G) to design and fund an HIV prevention and maternal health project in Gulu, Uganda. She also spent a summer in Uganda working with GWED-G to evaluate and expand GlobeMed's project.
"Ireland's successful postcolonial and post-conflict development, especially with regards to providing quality health care, has been inspirational for my work with health in postcolonial and post-conflict regions in Africa" says Jin, whose future goals include becoming a doctor and being an advocate for global health equality. "Ireland's rich literary history also complements my interests in narrative medicine and comparative literature. I am so excited for this opportunity to study public health on the island and to join the Mitchell Scholar community."
Jin joins two College alumni who have previously won the Mitchell Scholarship: Robbie Majzner CC '03 and Sarah Wagner-McCoy CC '02. 
Click here for more information about The Mitchell Scholarship Program.