On December 6th, Schwarzman Scholars, at Schwarzman College on the campus of Tsinghua University in Beijing, announced its seventh class, which includes four Columbia alumni. From an initial pool of nearly 3,000 applicants, the admissions committee selected 152 scholars from over 30 countries and 100 global universities, increasing the Schwarzman network to more than 700 members.
The Schwarzman Scholars program seeks to promote international understanding, peace, and collaboration, and selects scholars for their identified leadership potential, intellect, and strength of character. Once admitted, Scholars pursue a one-year Master's degree in Global Affairs at Tsinghua with a core curriculum focused on leadership, global affairs, and China. Beyond the classroom, Scholars gain exposure to China by spending the year traveling within the country as well as gaining access to professional networks through internships, mentorships, high-profile speakers, and engaged faculty members.
This year, the Schwarzman team reported that the applicant pool demonstrated the extent to which young leaders understand the timely importance of fostering peaceful and prosperous relations with China, which the Schwarzman program aims to enhance by encouraging fellows to deepen their understanding of China's changing role in the world, and the economic, political, and cultural factors that have contributed to its increasing influence as a global power.
Meet the Awardees from Columbia College
Cian Saunders CC'19
Cian Saunders CC'19, studied Political Science while at Columbia. Raised in Marblehead, MA, Cian currently resides in Brooklyn and credits his time at Columbia for honing his intellectual interests in political philosophy and policy. In particular, Cian highlights his experience in Contemporary Civilization with Professor John Ma, where he was introduced to John Stuart Mill's Utilitarianism, and a Political Science seminar, "Politics of Income Inequality" with Professor Judith Russell, for helping him interrogate what equitable policy should look like, while learning to analyze critically the complex relationship between immigration status, income, and political engagement. In 2019, Cian visited China, including a stop at the Columbia's Global Center in Beijing. As Cian explains, he "found the scale and development of Chinese cities personally energizing and fascinating as an urban studies topic. The opportunity to return for a full year [through the Schwarzman program] promises adventure, learning, and reflection that I believe will be rewarding."
Kevin Wei CC'19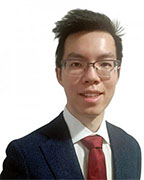 Originally from Plano, TX, Kevin Wei CC'19, studied Mathematics-Statistics and Economics at Columbia and is currently pursuing an M.S. in Computer Science at Georgia Tech. A devoted activist and aspiring tech-focused policymaker, Kevin is committed to guiding the rapidly, globally developing technology sector in a manner that promotes social justice and equity. Among Kevin's notable activist achievements, he fundraised $65,000+ for emergency COVID-19 relief for small businesses within NYC's Asian American community and established an initiative to combat anti-Asian sentiment within NYC's Chinatowns. As a Schwarzman Scholar, Kevin looks forward to deepening his understanding of artificial intelligence policy in China while further building his commitment to civil rights and ethical AI practices.
In addition, Darren Chen SEAS'17 and Damian Murray SPS'21 were also awarded the Schwarzman Scholarship and will join Cian and Kevin next year at Tsinghua University.
Current students and alumni can learn more about the Schwarzman Scholars program and other fellowship offerings through the Undergraduate Research and Fellowships office.