Wednesday, April 29, 2015
Shriya Samavai CC'15, an art history major with a concentration in business management from West Lafayette, Ind., and Lauren Field BC'16, an English major and art history minor from Portland, Ore., have won first place in the Columbia Venture Competition's Undergraduate Challenge for their clothing line, Academy Of. The award, which comes with $25,000 in funding, was announced by Dean James J. Valentini on April 24.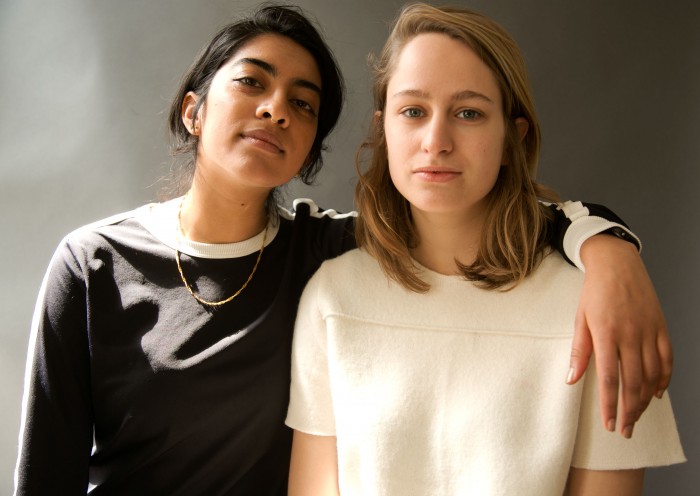 Academy Of co-founders Shirya Samavai CC'15 and Lauren Field BC'16. Photo: Courtesy Shriya Samavai CC'15
The Columbia Venture Competition's Undergraduate Challenge, sponsored by Columbia College, asked undergraduate student teams made up of students from Columbia's four undergraduate schools – Columbia College, The Fu Foundation School of Engineering and Applied Science, the School of General Studies and Barnard College – to compete for the challenge's cash grants by presenting a business model. Seven finalists pitched to a panel of six judges, composed of both faculty and alumni; the top three teams were selected based on their innovative ideas and the viability of their proposals.
Samavai and Field's company, Academy Of, makes apparel inspired by works of art. "By taking art that is traditionally reserved for museum walls and translating it into clothing, Academy Of subverts traditional modes of representation to make a more democratic and intimate experience of art," said Samavai.
Samavai and Field had been discussing how to raise money for their business when Samavai, who is a member of the Columbia Organization of Rising Entrepreneurs (CORE), received an email about the Undergraduate Challenge. She and Field decided that even if they didn't receive funding, the experience of the competition would be positive. "We knew it would be a good way for us to develop our venture and practice telling other people what the vision and goals behind the company are," said Samavai.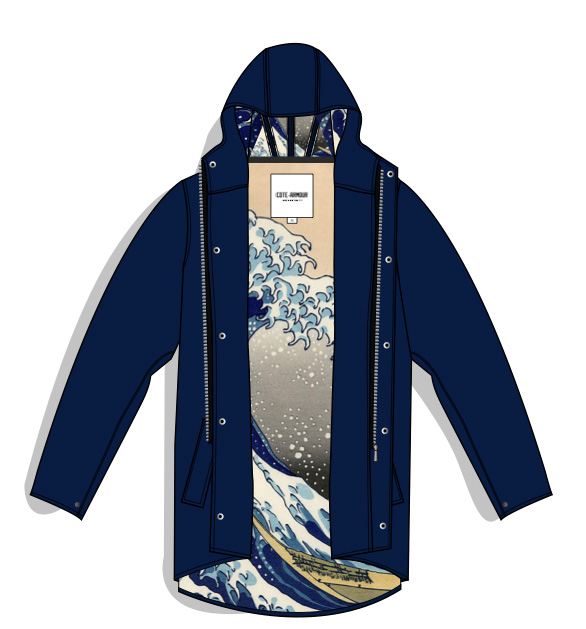 Academy Of's rain jacket, inspired by Katsushika Hokusai's "Great Wave off Kanagawa". Photo: Courtesy Shriya Samavai CC'15
Samavai credits the "amazing" art history courses she and Field have had access to, as well as their ability to see art in museums around New York thanks to Columbia's location, as part of the initial inspiration for their company. "We wanted to take what we've learned in these classes and create something tangible with it," said Samavai. "We are both practicing artists, and we know how intimate the experience of creating and viewing art can be. Through Academy Of, we democratize and elevate that intimacy by allowing our consumers to take the art home with them."
Along with Academy Of, the Undergraduate Challenge also recognized Helioderm (Elizabeth Dente SEAS'16 and Andrea Ortuno SEAS'16) and Kinnos (Katherine Jin CC'16, Kevin Tyan CC'16 and Jason Kang SEAS'16) for their entries, awarding the teams $15,000 and $10,000, respectively.
"We are so thankful to Columbia for awarding such a generous amount of prize money," said Samavai. "The $25,000 is going towards the production of our first piece, a rain jacket inspired by [Katsushika] Hokusai's 'Great Wave off Kanagawa,' along with creating the samples for our first full line, which will be debuting in Spring 2017."