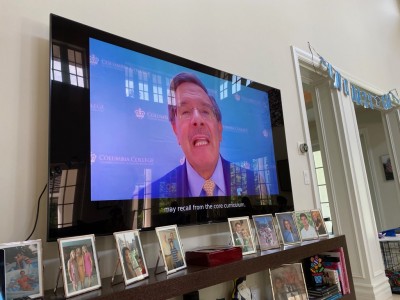 COURTESY VICTOR MENDELSON CC'89
In place of swooping tents and silver bleachers decking South Lawn, the Class of 2020 watched deans, peers and this year's Class Day speaker, Hon. Rolando T. Acosta CC'79, LAW'82, on laptops and televisions from locations around the globe on May 19, 2020, for the College's first Virtual Class Day.
More than 8,000 viewers tuned in to the broadcast, which began at 10:00 a.m. EDT and united the graduating class across oceans and time zones, from Santa Clara to Brownsville, Dhaka to Bueno Aires. This was — as Dean James J. Valentini highlighted in his welcome remarks — an unprecedented celebration for unprecedented times.
Addressing the graduates, Valentini acknowledged the dramatic disruption of the spring semester and shared a stirring perspective on "Beginner's Mind," a Buddhist mindset encouraging openness and lack of preconceptions.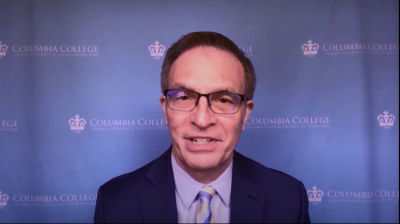 COURTESY SIHAN TAN SOA'20
"In an unprecedented situation, everyone is a beginner by definition, because there can be no experience of the unprecedented," said "Deantini," as he is affectionately referred to by Columbia College students. "Your entire Columbia College experience was unprecedented because it was an experience unique to each of you, full of discoveries, knowledge, experiences, people and most importantly, a new sense of all the possibilities held within each of you. I believe this unprecedented year will become the most memorable senior year in history. And as a result, you each will carry a badge of honor as someone who shared this experience, an experience in which a mid-March diaspora separated you from one but I know also united you in your spirit and zeal for the future."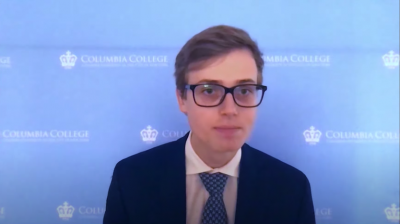 COURTESY SIHAN TAN SOA'20
Senior Class President James Ritchie CC'20, a psychology major with a concentration in art history, was galvanizing in a speech that highlighted the uncommonly common experience of a most unique Class of 2020.
"We arrived in Morningside Heights in the 'Yes We Can' era of hope and positivity," said Ritchie. "And try as the universe did to break our spirits, we improvised, adapted and overcame. We were and are a special class. We are resilient even as we have been made to handle far more than we thought we could."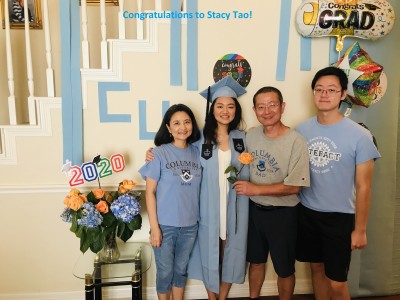 Meanwhile, far and away from campus, graduates shared dedications garbed in real and virtual Columbia College regalia. Using the commemorative #CC20STILLROARS and #MYCCJOURNEY hashtags, dozens of messages went live on the ceremony's social media display. Graduation-themed "Columbia 2020" filters, gifs and stickers were the Columbia Blue icing on Instagram stories as the Class of 2020 blasted Marvin Gaye's "Ain't No Mountain High Enough," Vampire Weekend's "Step" and other anthems featured on the "20 for 2020" Playlist (graduating seniors had been invited to share and vote for the soundtracks to their Columbia experience on YouTube and Spotify).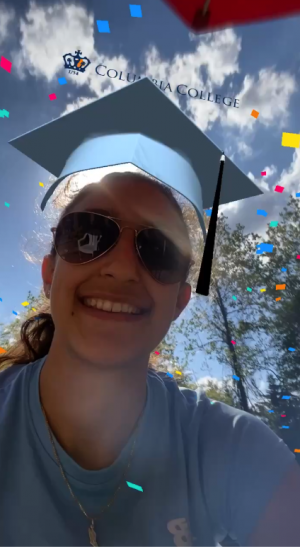 COURTESY MARYAM KHALED HASSAN CC'20
Raised in the South Bronx and Washington Heights, Acosta, presiding justice of the New York State Supreme Court, Appellate Division, First Department, emigrated from the Dominican Republic to the United States with his family at 14. As Class Day speaker, he was the first to welcome the Class of 2020 to the diverse, strong and growing community of College alumni, now at a bit more than 53,000, including the newest members. Acosta, a former star on the Lions's varsity baseball team, was inducted into the Columbia University Athletics Hall of Fame in 2008.
In his remarks, Acosta paid tribute to his father, who died just recently, at 97, from COVID-19: "He showed me that my contentment is directly related to the path I follow to success and the lives that I impact." Of the College, Acosta praised the Core Curriculum as something that provided him guidance in becoming "someone who values giving back to my community, cherishes the rule of law, and has chosen to work within the system to ensure that justice prevails."
Acosta challenged the Class of 2020 to "continue to find ways in which to help others through your work," for "this challenge will not only benefit society, but it will also be the beginning of a more satisfying part of your life's journey, where you will discover that there is no substitute for a balanced life, which includes service to others."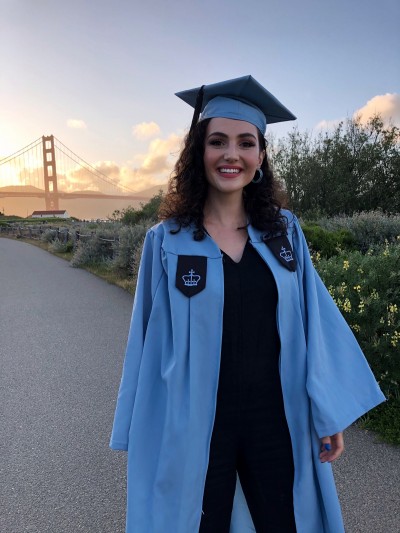 COURTESY CLAIRE FRY CC'20
The virtual ceremony continued with a presentation of awards by Lisa Hollibaugh, dean of Academic Affairs. She began by honoring the salutatorian, Ariana Mao CC'20, a double major in sociology and economics from Atlanta, and the valedictorian, Georgia Essig CC'20, a computer science major with a concentration in Russian language and culture who lives in Brooklyn now but grew up in Burlington, Vt. This was followed by the recognition of the achievements of each of the 1,191 graduates. President Lee C. Bollinger provided congratulatory remarks in anticipation of the next day's virtual University Commencement before Valentini returned to provide closing remarks and final felicitations to the graduates.
The next day, May 20, 2020, the members of CC'20 joined graduates from all the other schools across the University for virtual University Commencement. Students tuned in to view and hear speeches from the deans of all of Columbia's schools — including Valentini — before Bollinger formally conferred their degrees.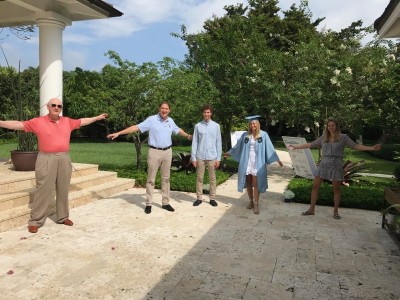 COURTESY VICTOR MENDELSON CC'89
A special Class of 2020 Collage was also digitally presented to CC'20 members shortly after University Commencement. Included were reflections by the newly-minted College alums, lists of awards and honors, and a poignant video tribute by the class to the class. And with that, Columbia's first virtual ceremonies — Class Day and University Commencement — ended, but not before closing with two cherished traditions of every Columbia College graduation.
The Columbia a cappella group Notes and Keys serenaded CC'20 with a moving rendition of "New York State of Mind," albeit from home, and the Empire State Building was lit in Columbia Blue in celebration of Columbia's Class of 2020.
If you were unable to tune in to virtual Class Day or virtual University Commencement, the ceremonies are available online: Class Day | University Commencement.