Columbia College mourns the loss of Bill Campbell CC'62, TC'64, former chair of the University Trustees and former captain and coach to the Columbia Lions football team, who passed away on Monday at the age of 75.
"We are devastated by the loss of Bill Campbell," said James J. Valentini. "Bill was a remarkable entrepreneur, a dedicated and generous Columbia College alumnus; and a committed friend, adviser and mentor to me. He enriched the lives of many at Columbia and throughout the world and he will be missed by all who knew him."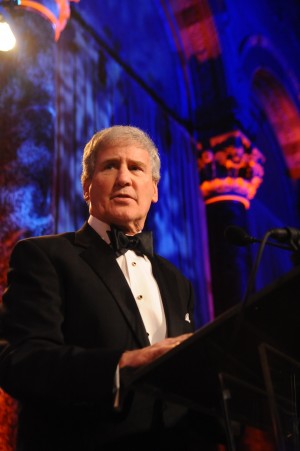 A leader in Silicon Valley, Campbell retired in January as Chairman of Intuit, where he had served as president and chief executive officer from 1994 to 2000. Campbell was also founder, president and chief executive officer of Claris Corporation, which Apple purchased in 1990, and previously served as executive vice president of Apple Computer, which he joined in 1983. He stepped down from Apple's board in 2017 as the longest-serving board member in Apple's history. His advisory roles at Apple, Google,  Facebook, Twitter and others earned him the nickname "Coach of Silicon Valley."  
"I cannot begin to compose a statement that fully expresses the grievous sense of loss we experienced early this morning when Bill Campbell passed away," said Columbia University President Lee C. Bollinger. "Bill was a beloved alumnus, football coach, Trustee, former Chair of the Board of Trustees, and, above all, a friend and source of boundless joy and counsel to everyone who knew him. Columbia will forever remember Bill."  
Campbell served as a member of the University Board of Trustees from 2003 until 2014, and chair of the Board from 2005 until 2014. A four-year student-athlete, Campbell was the captain of the 1961 Ivy League Championship football team, and, as a senior in the College, earned All-Ivy League accolades. He returned to Columbia to coach the Columbia Football team from 1974 and 1979.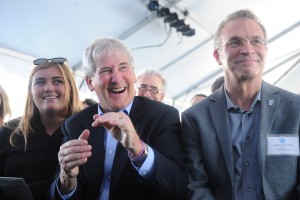 Bill Campbell CC'62, TC'64 with Columbia College Dean James J. Valentini at the dedication for the Campbell Sports Center. In Fall 2013, because of his tremendous leadership and passion for Columbia Athletics, the University dedicated the Campbell Sports Center in his honor. The state-of-the-art 50,000 square foot Athletics facility at the Baker Athletic Complex on West 218th Street incorporates offices for varsity sport programs, a strength and conditioning center, a hospitality pavilion, and study areas and lounge space for student-athletes.
In Fall 2014, the athletics program retired Campbell's uniform number, 67, and at the 2015 Varsity C Celebration, introduced a new award, the William V. Campbell Performer of the Year, to be presented annually to the top male and female student-athletes of the academic year.
Campbell's generosity to the College and University was immense. He endowed the Roberta and William Campbell Professorship in Contemporary Civilization and the Campbell Family Professorship in Anthropology; he gave $1 million to The Austin Quigley Endowment Fund for Student Success, aimed at enhancing advising and career counseling at the College; and he recently committed $10 million to the Core to Commencement campaign. Campbell received the John Jay Award for Distinguished Professional Achievement in 1991 and, in 2000, was awarded the Alexander Hamilton Medal, the highest award given by Columbia College. 
Campbell is survived by his wife, Eileen Bocci; his son, Jim Campbell CC'04, SIPA'08; his daughter, Maggie Campbell CC'13; and three step-children, Matt Bocci CC'13, Kathleen Bocci and Kevin Bocci.