Columbia College students interested in learning more about applying for fellowships are encouraged to connect with Undergraduate Research and Fellowships.
Boren Fellowship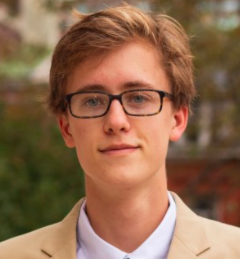 Trey Sprouse CC'22, an East Asian Languages and Cultures and political science from Lookout Mountain, Georgia, has been awarded a Boren Fellowship.
Boren Awards provide U.S. undergraduate and graduate students with resources and encouragement to acquire language skills and experience in countries critical to the future security and stability of the United States.
Trey is interested in modern Chinese history and grand strategy. On campus, he is involved in Columbia International Relations Council and Association, Global China Connection, Board Games Club, and Chess Club.
NYU Shanghai
Mariel Sander CC'20, a major in neuroscience with a concentration in English, has been awarded a NYU Shanghai Writing and Speaking Fellowship. Next year, she plans to run a healthcare-related scholarship project and to continue helping others develop their writing at NYU Shanghai.
The NYU Shanghai Writing and Speaking Fellowship enables accomplished individuals with a passion for teaching to provide academic support and enrichment to the students who make up NYU Shanghai's multicultural student body.