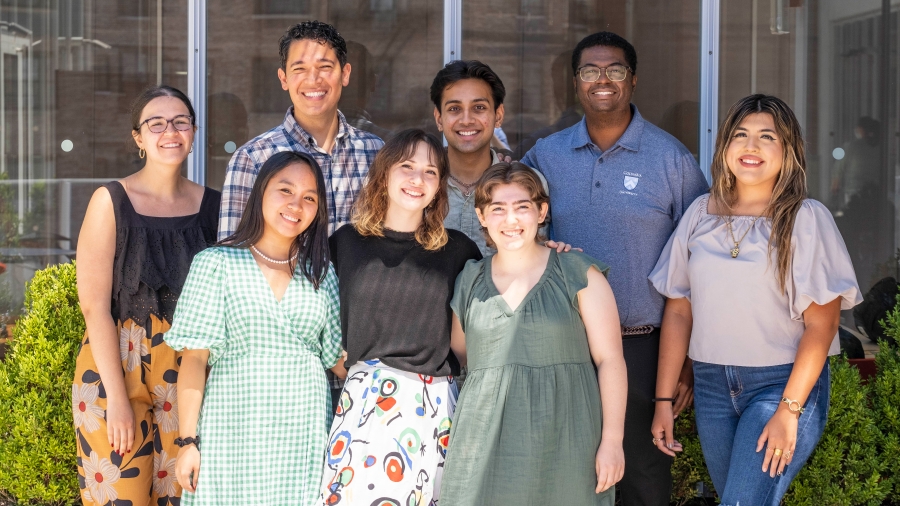 Courtesy of Columbia World Projects
Want to change the world? Columbia World Projects (CWP) is offering a Social Impact Fellowship to rising juniors and seniors who want to use their interests and talents to help address complex global issues.
Social Impact Fellows take part in a five-week summer session, followed by an academic year of programming that includes learning opportunities, gatherings with thought leaders and social impact innovators, and paired mentorships.
Now in its sixth year, CWP is a major University-wide initiative that mobilizes Columbia's vast research capabilities to address world issues — from renewing democracy to climate and maternal health. "Social impact" refers to individuals and organizations that are contending with a societal injustice and/or a challenge within a particular community.
"Columbia students are eager to use their skills and talents for positive impact in the world," said Lisa Dolberry Hancock, director of learning and innovation at CWP. "The Social Impact Fellowship provides undergraduate students with an opportunity to develop and strengthen their skills, engage with CWP's diverse portfolio of work and contribute their voices and perspectives, which are critical to the work we do across the university and within communities locally and globally."
Eight students were selected in the program's 2022–2023 inaugural year, including Columbia College student Johanna Martinez CC'24. Martinez, a sustainable development and public health major, founded the nonprofit The Blue Jay Foundation in 2015. Its work has included donating educational supplies to low-income students, and cold-weather and hygiene supplies to immigrant women, as well as the initiative "Vitales Ecuador," which provides accessible health services to Indigenous Ecuadorians.
"With my nonprofit, I've had to learn a lot of things on my own," Martinez says. "However, the fellowship taught me that there are so many amazing people with knowledge, passion and experiences who can help me in my journey. I learned that asking for help is key and to continually be open to exploring new aspects, ideas and areas for improvement."
Julianna Desjardins CC'24 and Ronit Dhulia CC'24 were also selected for the 2022–23 cohort. Desjardins is focused on inclusive urbanism and energy access to address systemic inequality; she has said that her passion for social impact work is rooted in her experience living at the Mexico-United States border, where she witnessed countless instances of injustices against her community. Dhulia's areas of interest are addressing healthcare disparities and global poverty, as well as contributing to public health initiatives that alleviate poverty and hunger and address access to resources.
A Four-Part Program
Participants take part in four distinct phases of the fellowship during the summer and academic year.
In 2023, the program kicks off on Thursday, July 6, with a full-time, five-week summer session on the Manhattanville campus. Students participate in workshops and sessions that are designed to build practical skills and deepen their understanding of collaborative and interdisciplinary approaches to problem-solving. Students receive a $4,800 stipend, and the program covers the cost of travel to and from New York City and provides housing for students as needed for the length of the session.
Beginning in the Fall term, Social Impact Fellows gain exposure to the work of CWP, receive mentorship, and have the opportunity to meet and learn from thought leaders from a variety of sectors and fields — including participants in the Obama Foundation Scholars Program who are addressing challenges within their home communities and countries.
The program culminates with a capstone project at the end of the Spring term in which students present their proposed solution to a critical societal challenge. While the fellowship does not offer academic credit, students receive a certificate of completion from CWP.
Social Impact Fellowship applications are open until Monday, March 27; participants will be selected and notified in April. Explore more information or apply.