Elana Shanti Sulakshana CC'17, a history and sustainable development double major from Newton, Mass., has won a prestigious Udall Undergraduate Scholarship, awarded to college sophomores and juniors in recognition of their leadership, public service and commitment to issues related to American Indian nations or to the environment.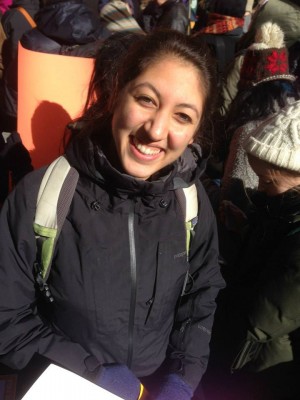 Sulakshana, who is also a Henry David Thoreau Foundation Scholar, is interested in the intersection of climate change and human rights issues such as as conflict and migration, and has been working on climate change since 2012 in various capacities. She has worked as the Climate Policy Intern at The Century Foundation, a nonpartisan think tank that seeks to foster opportunity, reduce inequality and promote security at home and abroad; at the United Nations Sustainable Development Solutions Network, an organization that works to mobilize global scientific and technological expertise to promote practical problem solving for sustainable development; and as a research assistant for the Environmentally and Socially Sustainable Economic Growth project for Columbia's Center for Environment, Economy, and Society.
"I am thrilled to join the incredible network of Udall Scholars, given the diversity of interests, experiences and professions among the alumni. I am particularly excited to meet fellow recipients at the Scholar Orientation in Arizona this summer," Sulakshana said . "Receiving the Udall scholarship further solidifies my commitment to centering future studies and work on policy at the intersection of climate change and human rights."
On campus, Sulakshana is a biking orientation program leader for the Columbia Outdoor Orientation Program, leading a four-day, 150-mile bike trip for incoming first-year students. She is also the house coordinator and recruitment coordinator for Greenborough Special Interest Community, a community of students who live together and develop creative and practical ways to positively engage with the environment. She has served as director of academic affairs for the Student Union for Sustainable Development, a student organization working to connect students with sustainable development opportunities on campus and at the Earth Institute, and as a managing board director for Consilience: The Journal for Sustainable Development.
The Udall Undergraduate Scholarship is presented by the Udall Foundation, which was founded by the U.S. Congress in 1992 and awards scholarships, fellowship and internships for study in fields related to the environment and to American Indians and Alaska Natives in fields related to health care and tribal public policy.
The scholarship honors the legacies of Arizona politicians Morris Udall and Stewart Udall, whose careers had a significant impact on American Indian self-governance, health care and the stewardship of public lands and natural resources. Winners receive up to $7,000 for eligible academic expenses; access to the Udall Alumni Network, an association of environmental and tribal leaders and public servants sharing innovative ideas, professional advice and job and internship opportunities; and a travel scholarship to attend a four-day Scholar Orientation conference held in Tuscon, Ariz. where scholars work together on a case study, learn new ways to collaborate, and build community with other scholars, Udall alumni, and professionals working on environmental and tribal issues.