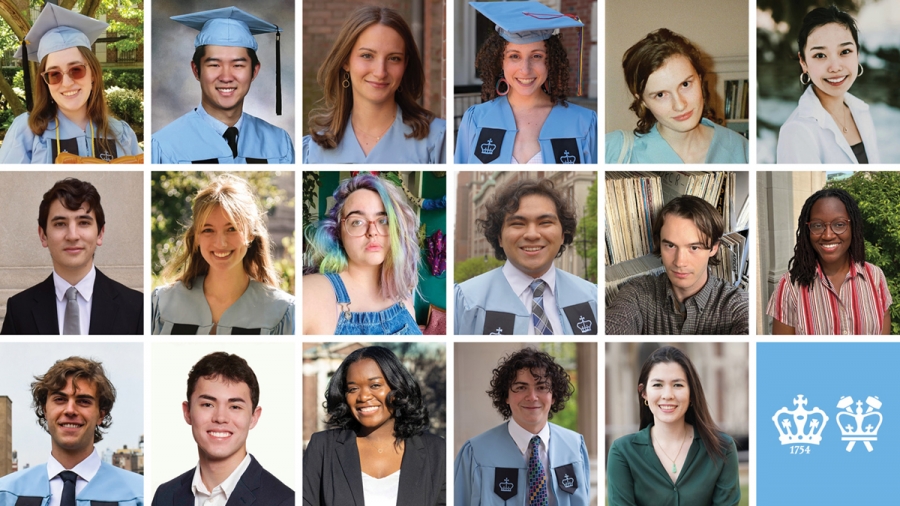 Seventeen Columbia College alumni, one Columbia Engineering alum, and one General Studies alum have been awarded
Fulbright U.S. Student grants
, which offer funding for students and young professionals to pursue individually designed international research and study projects or to teach primary or secondary school in English-language classrooms around the world.
The program awards approximately 1,900 grants annually in all fields of study and operates in more than 140 countries.
Read on to learn more about the projects and adventures that await this year's awardees!
---
2023–24 Student Awardees
Benjamin Arenstein GS'18
Arenstein, a joint General Studies and Jewish Theological Seminary graduate and current Ph.D. student at the University of Chicago, will pursue research on Soviet émigré writing in Israel during the years 1953 to 1989 as a Fulbright fellow at the University of Haifa. His history background from his time at Columbia will provide a foundation for this research, which will examine how literary networks established between the Soviet Union and Israel during this period fostered new modes of reading and textual production. Arenstein previously served as an English Teaching Assistant in Uzbekistan with the Fulbright US Student program in 2018 - 2019.
Mercy Campbell CC'23
Born and raised in Burlington, Ky., Campbell majored in East Asian languages and cultures. At Columbia, she was a coordinator for the Global Ambassador Program and a volunteer college advisor for Matriculate. As a Fulbright English teaching assistant in South Korea, she will teach elementary school students. After her Fulbright year, Campbell plans to attend graduate school, focusing on Korean studies, and will seek a career in academia or education.
Gabriel Chan CC'23
From Commack, N.Y., Chan majored in biochemistry, where he was a counselor and board member for Camp Kesem, which provides support to children affected by a parent's or guardian's cancer. As a Fulbright scholar, he will conduct computational neuroscience research at the Centre Borelli in Paris with the aim of better understanding the features of the brain related to addiction and addiction resilience. Following his fellowship experience, Chan will pursue an M.D./Ph.D offered by the Stony Brook University Medical Scientist Training Program in conjunction with Cold Spring Harbor Laboratory.
Sylvie Epstein CC'23
Epstein, who majored in history with a concentration in educational studies, is from Brooklyn, N.Y.; at Columbia she was a mentor at the Double Discovery Center and a college advisor for Matriculate. She will be an English teaching assistant in the La Rioja region of Spain, where she hopes to gain a nuanced, comparative perspective on approaches to education. Epstein hopes to pursue a career in education reform.
Carolyn Friedman CC'23
Friedman, who hails from Atlanta, studied anthropology at the College, and performed with student theater groups and Columbia Circus Collective. She also was a program leader for the Columbia Outdoor Orientation Program. As an English teaching assistant, she will teach at the university level in Bogotá, Colombia. While abroad, Friedman will also collaborate with local street theater collectives to both learn about and participate in the creation of art for the public sphere.
Courtney Eileen Fulcher CC'21
Fulcher, who is from Ann Arbor, Mich, majored in comparative literature, was a broadcast engineer and on-air presenter at WKCR-FM and was on the editorial board for the literary magazine Surgam. As a Fulbright-Nehru English teaching assistant in India, she will teach at Pondicherry Community College and assist with the U.S. Department of State's English Access Microscholarship. After her Fulbright year, Fulcher aims to work at a local public media station as a news producer.
Maki Ishibashi CC'23
Ishibashi, a biology major from Bethesda, Md., was involved with Columbia Repertory Ballet and Columbia Japan Society as an undergraduate. She also was a patient care volunteer at NewYork-Presbyterian Brooklyn Methodist Hospital. As a Fulbright Scholar in Japan, she will investigate DNA repair processes. After her fellowship experience, Ishibashi plans to apply to M.D. and Ph.D. programs in the United States.
Alexander Liebeskind SEAS'22
A Los Angeles native, Liebeskind studied computer engineering and minored in applied math and political science. He was a writer and editor for the Columbia Undergraduate Law Review and was a volunteer EMT. He was also selected for a research fellowship with the Oak Ridge Institute for Science and Education at the U.S. Food and Drug Administration during his time as an undergraduate. As a Fulbright Scholar in Germany, Liebeskind will conduct a research project applying deep learning to neurological imaging at the Technical University of Munich's Computer Vision Group. He hopes to gain a global perspective on healthcare outcomes and the role of computational methods in divulging quantitative knowledge and improving treatment.
Samuel Magaziner CC'16
Magaziner will conduct research with Nobel Laureate Professor Aaron Ciechanover of the Technion – Israel Institute of Technology. He received his B.A. in biochemistry from Columbia University, and an M.Phil. in biological sciences from the University of Cambridge. He is currently an M.D./Ph.D. student in the New York University Grossman School of Medicine's Medical Scientist Training Program (MSTP).
Regan Mies CC'22
Mies, a double major in political science and German from Cold Spring, Minn., was a program coordinator and elementary school classroom assistant through Columbia Community Impact. She will join the English Teaching Assistantship program in Germany, where she also hopes to work with local booksellers and writers to expand her understanding of contemporary German literature. After her Fulbright year, Mies plans to bring her experiences back to a career in publishing and translation.
Viviana Prado-Núñez CC'20
Prado-Núñez, who is from San Juan, Puerto Rico, will conduct research on Venezuelan migrant-musicians in Morocco with the aim of creating an audio series in English, Spanish and Darija. The project builds upon research she began while studying abroad in Rabat in 2019 and is further shaped by her professional experiences as an audio creator. Prado-Núñez, who majored in drama and theatre arts, credits this course of study with providing the skills that will shape her project in Morocco.
Andrew Ramirez CC'23
Ramirez, who is from North Wales, Pa., majored in East Asian languages and cultures. He was president of Symposium, a literature and philosophy club that focuses on intercultural conversations and pedagogy. Ramirez will teach middle and high schoolers in South Korea as a Fulbright English teaching assistant, and hopes to integrate lessons in literary and media studies into his English lessons. Following his Fulbright year, he will pursue a career in law or academia.
Charles Smith CC'22
Smith, a New York City native, majored in comparative literature and society with concentration in Russian. He is the director of the world music department for WKCR-FM. Smith also was an editor for The Birch Journal of Slavic and Eurasian Cultures and Columbia Journal of Literary Criticism. As an English teaching assistant in Georgia, he looks forward to gaining a deeper understanding of the region before pursuing graduate studies in comparative literature focusing on the post-Soviet region.
Nkima Stephenson CC'21
Stephenson, who is from Atlanta, majored in neuroscience and behavior at Columbia, where she was a student artist-in-residence at the Barnard Movement Lab. As a Fulbright scholar in Belo Horizonte, Brazil, she will research public trust in scientific innovation, specifically, trust in AI algorithms as mediators of news and other information in a social media setting.
Paul Ward CC'23
Ward, who is from Randolph, N.J., studied history at the College, where he also played bass in Music Performance Program jazz ensembles and was a teaching fellow for Breakthrough Collaborative. As a Fulbright-Nehru English teaching assistant in India, he will teach in Chennai, where he looks forward to gaining an international perspective on educational approaches.
Emile Warot CC'21
Warot, a history major from New York City, was involved with Philolexian Society and was a staff writer for Spectator. As a Fulbright Scholar in France, he will pursue a master's in history at Paris Nanterre University, researching the legal and social histories of multiple citizenship in France.
Serena White CC'23
White, a double major in political science and Hispanic studies from Chicago, was editor-in-chief of the Columbia Political Review and VP of Columbia University Women in Law and Politics. She will be an English teaching assistant in Madrid and plans to pursue law school upon her return from Europe.
Sam Yelnosky CC'23
Yelnosky, a history major from Providence, R.I., was secretary and social chair of Uptown Local, Columbia's Men's Ultimate Frisbee team. As a Fulbright Garcia-Robles English teaching assistant in Mexico, he looks forward to immersing himself in Mexican life and gaining a new perspective on the United States.
Haley Zehrung CC'22, GSAS'23
Zehrung, who is from Rockville, Md., graduated with a B.A, in political science and Russian language before earning an M.A. in Russian, Eastern European and Eurasian studies at the Harriman Institute, where she focused on Central Asia. As an English teaching assistant in Uzbekistan, Zehrung hopes to gain a deeper understanding of the region before ultimately working in international development or diplomacy.
For more information about the Fulbright U.S. Student Program, please reach out to Undergraduate Research and Fellowships.