Harmann Singh CC'16, an economics-mathematics joint major from New York, has been selected for a prestigious 2015 Truman Scholarship.
Truman Scholars receive up to $30,000 for graduate study, as well as priority admission and supplemental financial aid at some premier graduate institutions; leadership training; career and graduate school counseling; and special internship opportunities within the federal government.
Singh, along with 57 other 2015 Truman Scholars, was selected from among 688 candidates nominated by 297 U.S. colleges and universities. The awardees were chosen by 16 independent selection panels on the basis of the finalists' academic success and leadership accomplishments, as well as their likelihood of becoming public service leaders. Singh is Columbia's first Truman Scholar since 2008.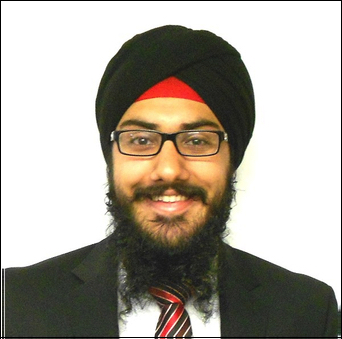 Harmann Singh CC'16 "We are incredibly pleased that Harmann Singh has been selected as a Truman Scholar," said Scott Carpenter, associate dean of Global Education and Fellowships. "It is gratifying to see that the Truman Scholarship has rewarded Harmann's commitment to public service with this honor. The scholarship will help him become an agent for change on the important topics that animate his activism." 
Singh, the only member of his family born in the United States, has served as an intern at The White House, has published about minority empowerment in the Huffington Post and the Columbia Spectator, and was a student editor for a book on human rights violations in India that sold more than 4,500 copies worldwide. He also created Project Identity, a mentorship program that connects Columbia students with youth in Harlem, in collaboration with the Department of Justice and Harlem Children's Village.
An accomplished classical percussionist, he serves on the board for Columbia Sewa, a student group that emphasizes the importance of the Sikh tradition of Sewa (selfless service) and Columbia Orchestra, is an Interfaith Fellow with the Chaplain's Office, and was a research assistant in the Department of Economics.
Singh plans to use his Truman Fellowship to attend law school and subsequently hopes to become a federal prosecutor and civil litigator and leverage his education to empower underprivileged and marginalized communities.
"I define my success and happiness by what I can give to others," Singh said. "I believe I can contribute most to the world by working directly to ensure the civil liberties and the rights of marginalized communities across the country through the legal system."
Along with the support of his friends and family, particularly his father, Singh credits the Office of Global Programs and Fellowships with helping him prepare his application for the scholarship.
"Since I started along this journey last November, the Fellowships office has taken a genuine interest in my success," Singh said. "From the moment I started my application, they were there to review my drafts, answer my questions and help me frame my larger narrative. Their questions and feedback were absolutely invaluable."
He said Columbia has also been crucial to his development, both professionally and personally.
"The students inspire me, the professors challenge me, and the courses make me question – everything," he said. "The abundance of resources and opportunities available on our campus have been eye-opening, and it seems that every person is willing to lend a helping hand."
"For me, the most important part of my Columbia education has been the students and community. I know I am surrounded by the future leaders of the world, and they inspire me and drive me to reach my full potential," he added.
The Truman Scholarship Foundation was established by Congress in 1975 as the federal memorial to President Harry S. Truman. The Foundation awards scholarships for college students to attend graduate school in preparation for careers in government or elsewhere in public service. The activities of the Foundation are supported by a special trust fund in the U.S. Treasury.
Recipients of the Truman Scholarship must be U.S. citizens, have outstanding leadership potential and communication skills, be academically excellent and be committed to careers in government or the non-profit sector.
Singh, along with the other 2015 Truman Scholars, will travel to William Jewell College in Liberty, Mo.,  for a leadership development program on May 19, and will receive his award in a special ceremony at the Truman Library in Independence, Mo., on May 24.
"The Truman Scholarship is more than just funding for grad school – it gives me an opportunity to spend up to two years in Washington D.C, to develop my leadership skills with a week-long conference for new scholars, and most importantly, it provides me with a network of driven, motivated public servants," Singh said. "Looking upon past Truman scholars – Susan Rice, Bill DeBlasio [SIPA'87], George Stephanopoulos [CC'82] – I know I am joining a community of dedicated, accomplished public servants, and I am excited for the journey ahead."