Friday, November 15, 2013
Joel I. Klein CC '67 was presented the 2013 Alexander Hamilton Medal on November 14 at the Alexander Hamilton Award Dinner, an annual black-tie event in Low Rotunda.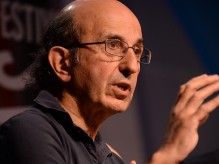 PHOTO: MICHAEL BRANDS Klein is CEO of Amplify, the education division of News Corp., and executive vice president at News Corp., as well as a member of News Corp.'s Board of Directors. Previously, he was chancellor of the New York City Department of Education, where he oversaw a system of more than 1,600 schools with 1.1 million students, 136,000 employees and a $22 billion budget. In 2002, as chancellor, Klein launched Children First, a comprehensive reform strategy that has brought coherence and capacity to the system and resulted in significant increases in student performance. He joined News Corp. in January 2011. 
A former chairman and CEO of the U.S. arm of Bertelsmann, a global media company, Klein was Assistant U.S. Attorney General in charge of the Antitrust Division of the U.S. Department of Justice from October 1996 to September 2000 and was Deputy White House Counsel to President Clinton from 1993 to 1995. He entered the Clinton administration after 20 years of public and private legal work in Washington, D.C.
Klein graduated magna cum laude from the College and earned a J.D. from Harvard Law in 1971, also magna cum laude. He has received honorary degrees from Amherst, Columbia, Dartmouth, Duke, Fordham Law, Georgetown Law Center, Macaulay Honors College at CUNY, Manhattanville, New York Law, Pace and St. John's School of Education. He received a John Jay Award for distinguished professional achievement in 2002, was selected by Time Magazine as one of "Ten People Who Mattered" in 1999 and by U.S. News & World Report as "One of America's 20 Best Leaders" in 2006, and was given the prestigious NYU Lewis Rudin Award in 2009 and the Manhattan Institute's Alexander Hamilton Award in 2011.
Klein has been active in Columbia University affairs. While chancellor of NYC's public schools, working with President Lee C. Bollinger, he opened a new secondary school in Harlem that Columbia is supporting. He also served on the University's Manhattanville Ad-Hoc Planning Committee and is helping to develop the University's Mortimer B. Zuckerman Mind Brain Behavior Institute.
He is married to Nicole Seligman, executive vice president/general counsel of Sony Corp. and president of Sony Corp. of America, and has a daughter, Julia, who is pursuing her doctorate in philosophy.
The Alexander Hamilton Medal is the highest honor paid to a member of the Columbia College community. It is awarded annually by the Columbia College Alumni Association to a member of the Columbia community for distinguished service to Columbia College and accomplishment in any field of endeavor.