FEATURE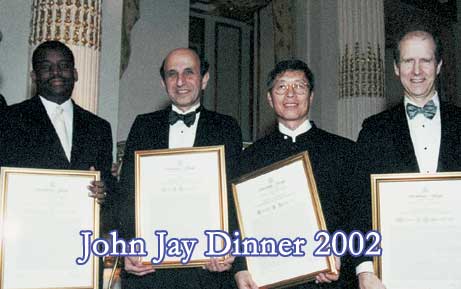 College Honors Four Alumni With John Jay Awards

On Wednesday, March 6, more than 600 alumni, friends, students and faculty filled the Grand Ballroom of the Plaza Hotel to honor four outstanding alumni — Derek Q. Johnson '81, Joel I. Klein '67, Conrad Lung '72 and William H. McDavid '68 — who received John Jay Awards for Distinguished Professional Achievement. This is the 24th year that the College has presented the awards, which are named in honor of the first chief justice of the United States and a member of the King's College Class of 1764. Funds raised at the dinner benefit the John Jay National Scholarship Program, which provides financial assistance and special programming for first-year students at the College.

The honorees have made their marks in fields ranging from media and entertainment to public service, banking and apparel manufacturing. Johnson is president and CEO of the Apollo Theater Foundation, a not-for-profit corporation responsible for the preservation, restoration and revitalization of the Apollo Theater on 125th Street in Harlem. Klein is chairman and CEO of Bertelsmann, Inc., and chief U.S. liaison officer to Bertelsmann AG, one of the largest media companies in the world. Lung is the president and co-founder of Sunnex, Inc., a New York–based company that manufactures and markets apparel in the United States, Canada and Latin America. McDavid is general counsel for J.P. Morgan Chase & Co., the conglomerate formed by the December 2000 merger of Chase Manhattan and J.P. Morgan.

The dinner co-chairs were Joseph Cabrera '82, William Chan '86, Joel Klaperman '67 and Charles O'Byrne '81.
Videos from the John Jay Dinner may be viewed online at: www.college.columbia.edu/alumni/news/jayawards2002.html.
Click on the thumbnails for a larger version and caption.