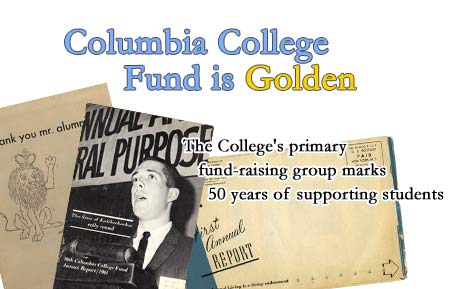 By Lisa Palladino
As Columbia University nears its 250th anniversary, another anniversary is being celebrated right here, right now. This year, the Columbia College Fund completes 50 years of helping students.
Financial aid, campus improvements, faculty assistance, student services and more are all supported by annual giving. The Columbia College Fund is important, especially in today's tough economic times, because although tuition covers part of the expense, it falls far short of the total amount needed to provide College students with a full spectrum of educational, personal and social experiences. Nearly half of the College's students receive financial aid, amounting to more than $25 million per year in grants.
Alumni participation in the form of consistent, annual giving is critical to the financial well being of the College. "The Columbia College Fund is a vital part of the College's overall fund-raising efforts," says Dean Austin Quigley. "Endowment funds and unrestricted funds alike allow us to enhance all facets of College life, whether it be in the form of financial aid, improved campus facilities including classrooms, strengthened academic programs including the Core Curriculum or better student services. Alumni, parents and friends who contribute to the fund also contribute to an improved educational experience for our students."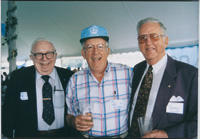 Calling upon alumni pride in the College, Joe Coffee '41 was instrumental in getting the fund started in 1951-52.
PHOTO: JOE PINIERO

Joseph Coffee '41 started the fund in 1952 because "there were no fund-raising efforts on the College's behalf. The College was not thought of as separate in those days," he says. For example, the University had an alumni association, but the College did not have its own. Coffee had been working at the University since 1946 "to establish what became a new office in communication with alumni;" around 1947–48, he and Aaron W. Berg '24 were spearheading an effort to raise $250,000 for the field house at Baker Field. The funds were raised, and based on that success, Coffee proposed a separate fund for the College at a University alumni association meeting. Some of the attendees were reluctant, but, according to Coffee, Frank S. Hogan '24, then-district attorney of New York County ("one of the most distinguished Columbia alumni ever," according to Coffee, "a true Columbia man, revered, with great powers of persuasion"), said, "Joe Coffee has an idea, and I think we should give him a chance to try it out." And so the fund was born.
"Then I had to go and prove the idea," Coffee says. "And I did."
Coffee organized committees by class and requested that each president recommend a fund chair or chairs. "I wanted to call upon the pride that College alumni had in the school," he says. The first fund was chaired by Arnold T. Koch '21, a New Jersey-based attorney, and it raised $136,000. "This was a miracle for an organization that had just come into being," Coffee says. "That was a lot of money in those days." Coffee's work with the field house project also inspired fund raising for scholarships via the fund: Of the $250,000 raised for the field house, half was earmarked for scholarships.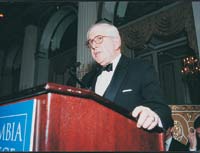 Ed Weinstein '57 chaired the Columbia College Fund to a record high in 2000-01 and hopes it will do even better in fiscal 2001-02, which ends June 30.
PHOTO: EILEEN BARROSO

After the first fund reached fruition, Coffee approached Dean Harry J. Carman and proposed publishing a fund report and sending it to all alumni. After getting the go-ahead, Coffee produced the first report and listed all who contributed, a practice that was revived recently with the publication of the 49th annual report for 2000–01. When it was time for the second fund report, Coffee wanted to expand it into an alumni newspaper, and thus Columbia College Today came into being. It has evolved from a newspaper into the bimonthly magazine alumni receive in the mail.
Coffee also created an opportunity for alumni to distinguish themselves as generous donors by founding the John Jay Associates. The minimum donation at the time was $250; today it is $1,500. Coffee asked Jerome Newman '17 to be the first John Jay Associates chair; Newman hedged a bit, until Coffee pulled out the big guns. "I told him that I had just hired an assistant director for the fund — Al Barabas '36." Barabas was famous for scoring the only touchdown in Columbia's 7-0 victory over Stanford in the 1934 Rose Bowl. Suffice to say that Newman hesitated not a moment longer when offered the chance to work with a Columbia legend.
Like the evolution of CCT, the fund, too, has come a long way in 50 years. For fiscal year 2001, unrestricted gifts totaled $8.1 million, and the goal for FY 2002 is to surpass that. The Office of Alumni Affairs and Development, headed by Derek Wittner '65, is on track to do so, supported by an enthusiastic professional staff and the hard work of alumni volunteers.
While total dollars are essential to meet operating needs each year, the College has embarked on a program to expand alumni participation as well; in other words, broaden the base of donors. Lagging far behind many of its peer schools, the College's participation rate is roughly 30 percent. Through a variety of initiatives, embraced under the rubric of "Columbia Connections," the College seeks to reconnect with more of its alumni on a national basis. These initiatives include enhancing the reunion experience, expanding young alumni activities and establishing an electronic community for alumni. By supporting Columbia College Women, Columbia College Young Alumni and the Alumni of Color Outreach Program in more meaningful ways, the College hopes to involve more graduates.
The Columbia Connections program also is placing an emphasis on connecting current undergraduates with alumni through informal get-togethers, mentoring programs and leadership activities. Establishing these connections across a four-year undergraduate experience culminates with senior support to the Senior Fund Committee effort. A joint project of the Alumni Office and Student Affairs, the senior gift initiative emphasizes participation rather than dollars, recognizing the importance of establishing a cultural tradition of giving back.
Investment in these initiatives is essential, Wittner believes, to the long-term health of the College. Both he and Abigail Franklin, a former fund director, lament that the success of the College fund has been held back because the fundamental connections that lead to increased philanthropy were neglected until recently, leaving much catch-up to be done.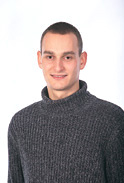 "Receiving Columbia's offer to begin studying at the College was one of the greatest moments in my life. I am well aware that it is solely the generous financial support of the College donors that gives me the opportunity to fulfill my dream of an academic career at Columbia."
-Nico Jaspers '05
Recipient of the Buchman
Family Scholarship
Gifts to the fund may be restricted or unrestricted. Those that are restricted often support endowed scholarships or professorships or are designated for specific capital improvements. For many years, Wittner notes, the College placed great emphasis on large, restricted gifts and neglected annual unrestricted giving. More recently, the case for annual unrestricted giving has been emphasized to address the imbalance and to encourage gifts of all sizes.
Getting out the message is the responsibility of the professional staff and alumni volunteers. Susan Levin Birnbaum, who was appointed director of the fund in November 2001, is emphasizing greater involvement of alumni class leaders. Plans are under way to develop a network of class agents and to better connect with alumni across the country through local programs supported by the alumni office. The participation initiative includes ongoing events in various cities; Los Angeles, San Francisco and Atlanta are only three of the domestic cities that Dean Quigley visited this year, as well as Singapore, Hong Kong and London.
In addition to personal contacts, the College fund now offers online giving to supplement its direct mail and telemarketing campaigns (by College students), and it boasts a growing Parents Fund. Susan Rautenberg, director of the Parents Fund, works closely with the Office of Student Affairs. Rautenberg has developed a network of parent volunteers who host events in various regions of the country for fellow parents and who conduct phone-a-thons to enlist financial support. Karen and John Lyle, parents of Ashley '02 and Brenton '03, are the national co-chairs of the Parents Fund. Karen Lyle traces her involvement to a meeting with a staff member who introduced her and her husband to the Columbia community. "We became enthusiastic. At first, we just worked with the Class of '02 parents, but we felt a deeper commitment to become involved. We said, 'Let's become involved with something that means so much to our children.' Columbia is a one-of-a-kind experience, and being involved gives us the chance to meet other parents, as well as alumni and administrators."
Dedication and involvement of volunteers are essential for the success of the entire fund. Abby Black Elbaum '92, '94 Business, is a vice chair of the fund who directs young alumni (those who graduated in the last 10 years) volunteer fund raising. Elbaum, who works in her family's real estate business in New York City, says, "I had a wonderful experience at Columbia, and I think it contributed to who I am. It's important to give back." Her comment echoes what other volunteers say when asked why they donate so much time and energy to help raise money for their alma mater. Elbaum notes that she is impressed with the dean and feels it is important for him to have the funds to pursue the College's priorities, a sentiment shared by Bob Berne '60, who chairs volunteer leadership fund raising. "I can definitely see changes on campus from when I attended," Elbaum adds.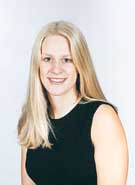 "I have no doubt that Columbia is exactly where I need to be to thrive, and it is the generosity of the College's donors that makes it possible for me to be here. I hope one day to be able to emulate these men's and women's commitment and make it possible for others like me to achieve their dreams at Columbia."
-Christina Michelle Kubacki '04
Recipient of the Philip L. and Cheryl S. Milstein Scholarship
Ed Weinstein '57, P'84, P'87, whose successful term as fund chair ends June 30, was involved as a volunteer in his class's activities when asked by Berne to become more active in the fund. Now thoroughly engaged in its activities — he accompanied Dean Quigley and staff members on a trip to San Francisco this spring — Weinstein has what he calls "a passion to move the fund ahead of where it is now. Columbia is still playing catch-up with alumni." His successor as chair, Geoffrey Colvin '74, '77L, '78 Business, looks forward to building on the successes of the last years. "Ed and Derek have done a wonderful job, and I plan to continue building on what they have accomplished. I'd like to increase the number of John Jays, and increase participation in general," he says.
Richard Witten '75, who chairs the Board of Visitors and is a member of the Board of Trustees, was one of many who benefited from the fund as a student. "The fund sits at the core of the College's ability to help students through need-blind admissions," he says. "Contributing to the fund has observable results. It makes a direct impact that you can see."
Coffee, too, feels extreme pride in the fund. "It has been my life," he says. "My children grew up with a picture of Dad going to a meeting for the Columbia College Fund. What I am proudest about, though, is the fact that the fund has been on a continuum — since that first year, it has carried right on through. Those involved now might not think of the early days, and that's fine, but the main thing is that those involved are proud of what they are now achieving.
"It comes down to the men and women who have served the fund: That's the magic that makes it all work."
To find out more about the fund and how to become a volunteer, call the Alumni Office at (212) 870-2288 or toll-free from outside New York at (866) CCALUMNI. You also can visit the office's Web site to find out about College activities or how to give back.
Lisa Palladino is the managing editor of Columbia College Today.