ALUMNI PROFILE
CCW Honors Carolina Gonzalez '87
By Alex Sachare '71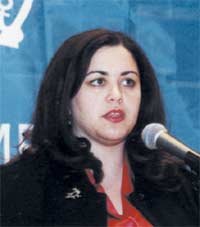 Carolina Gonzalez '87, who sits on the editorial board of The New York Daily News, was a member of the first Columbia College class to admit women.
PHOTO: CHRIS TAGGART

Carolina Gonzalez '87, only the second Hispanic to be named to the editorial board of The New York Daily News, was honored with the 11th annual Columbia College Women Alumna Achievement Award at a Lerner Hall reception on March 13.

Gonzalez has covered education, immigration and Brooklyn community news for the Daily News for the past five years. She holds a master's in comparative literature from UC Berkeley, and among her academic honors are grants from the University of California, the Mellon Foundation and a Fulbright. She has served as a regional director for the National Association of Hispanic Journalists and is the organization's representative on the Accrediting Council for post-secondary journalism programs. She also is on the advisory committee for Dominicans 2000, a community-based organization researching the Dominican community in the United States.

Speaking of her decision to attend Columbia, Gonzalez said, "The school was infused with a tradition that I wanted a piece of, but my research was incomplete. On the first day of classes, I saw all these TV cameras on campus and I didn't know why. Then a reporter came up and asked, 'How does it feel to be part of the first class of women at Columbia?' I had no idea!"

Gonzalez credits the breadth of her Columbia education with helping to prepare her for her career as a journalist and enabling her to make the most of opportunities along the way. "The experience at Columbia set the tone for what I've tried to do for the rest of my life," she said. "That is, make sure I am prepared, no, over-prepared, to take advantage of the gifts we get through serendipity."
The keynote speaker at the CCW reception was Patricia Ireland, who served for 10 years as president of the National Organization for Women. She now is a lawyer in Washington, D.C., and consults on equal opportunity and communication strategies and advises clients on how to avoid the high costs of discrimination and harassment in the workplace.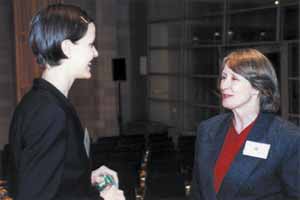 Keynote speaker Patricia Ireland (right), former president of the National Organization for Women, was introduced by CCW Executive Committee member Patricia Ireland '92, no relation.
PHOTO:CHRIS TAGGART

Ireland stressed the changes that have been made on behalf of women in society across the past two decades and the need to be continually vigilant. "We changed the language, we changed the culture, we changed the world — and we changed Columbia College," she said, drawing a laugh from the audience of more than 100. "We've made tremendous progress. But progress is not equality, progress is not irreversible, and progress is not inevitable."
Founded in 1989, CCW is an organization of students, alumnae, faculty and administrators dedicated to furthering professional and personal opportunities for the growing community of women associated with Columbia College.

A special presentation was made to Jerry Sherwin '55, outgoing president of the Columbia College Alumni Association, for his support of CCW over the years.