ROAR LION ROAR
Crew, Tennis Open New Facilities
By Jonathan Lemire '01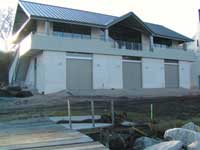 The new Class of 1929 boathouse features three bays that open directly onto the water and a deck overlooking the Harlem River.

PHOTO: JOHN A. REEVES

Two of Columbia's most successful athletics programs, the crew and tennis teams, moved into new facilities this year that should help them remain competitive with their Ivy League rivals. The first phase of both major projects has been completed, and fund raising is under way for the second phase of each.

"These new Baker Field complexes were long overdue," says Director of Athletics John A. Reeves. "The completion of this construction signifies a respectability in our facilities that was lacking."

Having opened on March 1, phase one of the Dick Savitt Tennis Center houses six courts with a state-of-the-art hard-court surface comparable to what is used at Davis Cup tournaments. Previously, the men's and women's tennis teams competed on the only clay courts in Division I, leaving them at a disadvantage when traveling to road matches and regional tournaments. Even when competitions were held at Baker, only four matches could be played at a time due to space limitations; the lack of room led to longer-than-normal meets and few spectators.

The new $5.2 million complex, however, can not only accommodate crowds, but also boasts an air dome permitting use in inclement weather. In addition, the complex should help the Lions draw better opponents who had refused to play on the slower, undersized clay courts, as well as more talented recruits.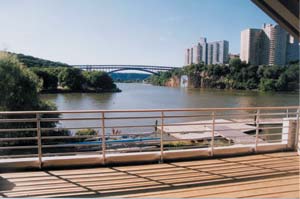 "I've been waiting 21 years to give our student-athletes the chance to play at the competitive level," said longtime men's coach Bid Goswami, whose team will be gunning for a third consecutive Ivy title this spring. "I'm excited about this."

Baker Field's new boathouse had an even longer gestation period than its neighboring tennis center — 79 years. The heavyweight, lightweight and women's crews have been using the new Class of 1929 Boathouse since the fall, and donor recognition plaques were unveiled at the annual Crew Dinner on April 6. The building, named for the class that produced Columbia's last national crew championship and was instrumental in financing the new facility, houses bays for each of the three crews that open onto the water as well as a second-floor fitness area. The building also features a deck that overlooks the Harlem River that Reeves says "will soon become one of the premier spots in the city for views and receptions."

Phase two is expected to include three more bays as well as locker rooms, a lounge and trophy rooms.
Jonathan Lemire '01


FENCERS WIN IVY: Columbia's men's fencing team won its 28th Ivy League championship, finishing the season with a 12–3 record that included a 4–0 mark in Ivy competition. It was the men's team's 21st undefeated Ivy campaign. Columbia placed fifth in the postseason NCAA championships, with sabre fencers Paolo Roselli '02GS and Andrew Sohn '04 earning honorable mention All America
honors.


CAGERS CAGED: Despite an inspiring 54–53 win on the road against eventual Ivy League champion Penn in early February, Columbia's men's basketball team, which featured seven seniors, faded to a disappointing 4–10 record in Ivy competition and an overall mark of 11–17. The Lions lost their last six home games, capped by a closing weekend that included a 51–47 loss to Penn — in which Columbia built and then lost a 15-point lead — and a 49–48 finale against Princeton in which Columbia led all the way until Mike Bechtold's game-winning three-pointer for the Tigers with 34 seconds left. In the high point of the season, Joe Case '02 sank a pair of free throws with just 3.2 seconds on the clock for the victory at Penn. Additionally, Craig Austin '02 was named to the All-Ivy Second Team.


TOP DIVER: Teresa Herrmann '05 won the three-meter dive and finished second in the one-meter event at the Ivy League championships and was voted Outstanding Diver of the Meet. Earlier, Herrmann set both Columbia and pool records in the one-meter dive in a dual meet against Princeton.


HONORED: The following Columbia student-athletes in winter sports were selected for Academic All-Ivy honors. Each was a starter or key reserve who achieved a 3.0 or better cumulative grade point average. Men: Joe Case '02 (basketball), David Epstein '02 (track), Vincent Galgano '04 (track), Andrew Sohn '04 (fencing) and Scott Troob '04 (diving). Women: Roxanne Atineza '03 Barnard (archery), Katie Day '03 (basketball), Meaghan Gregory '02 (track), Patricia Kern '03E (basketball) and Emily Seidman '04 (swimming).