STUDENT SPOTLIGHT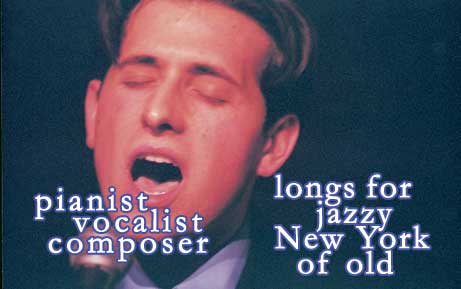 Peter Peter Cincotti '05
By Dina Cheney '99
"I wish everybody wore suits and hats like they did 50 years ago," says Peter Cincotti '05, speaking wistfully from the lobby of midtown Manhattan's Algonquin Hotel, where he is surrounded by proud Victorian chairs and oak molding. It's a place steeped in tradition: The famed roundtable of Dorothy Parker, Robert Benchley, George S. Kaufman, Edna Ferber and other literary luminaries convened here some 80 years ago. Cincotti, who fits right in at this old-fashioned landmark, practices what he preaches. During his pre-school years, Cincotti — who favors dress pants over jeans — would voluntarily leave his parents' Park Avenue apartment in a suit.

Such anachronistic fashion choices would be unusual for anyone else, but given Cincotti's chosen vocation, they make perfect sense. Cincotti is a pop-jazz pianist/vocalist/composer with a penchant for standards and a longing for the jazzy Manhattan of yesteryear. Whereas other young New Yorkers might think about hosting a show on MTV, Cincotti dreams of performing at Radio City Music Hall in five years. "It's very Old New York," he says. "I would love to fill that place."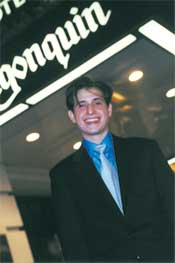 At 18, Cincotti was the youngest headliner in the 100-year history of the Algonquin Hotel's Oak Room, where he completed a one-month run earlier this year.
PHOTO: CHRIS TAGGART

Suits? Standards? Clearly, these are not the typical trappings of an 18-year-old who resides in a college dorm and needs to complete his Italian homework. But then, Cincotti is not your typical college first-year. He probably will fill Radio City within five years. Already, Cincotti has been described by Stephen Holden of The New York Times as "prodigiously talented" and a "proud pop-jazz throwback." Regis Philbin of Live With Regis & Kelly called him "absolutely fantastic" and "a name to remember."

Cincotti was born in New York in 1983 and began playing piano on his third birthday, after receiving a 12-key toy from his grandfather. Immediately, the preschooler displayed musical aptitude, picking out the notes for "Happy Birthday" after hearing his family sing the tune. He played by ear until he was 4, at which point his parents — Cynthia, a real-estate broker and former Good Housekeeping art director, and Fred, an attorney who passed away of a heart attack when Cincotti was 13 — decided that he was old enough for formal instruction and purchased a Baldwin.

Three years later, at age 7, Cincotti got his big break. Too sick to attend a Village Vanguard performance by his favorite singer/pianist, Harry Connick Jr., Cincotti remained at home with his father. According to family lore, Cincotti's sister, Pia, then 10 and now a senior at Fordham, visited the star backstage, bringing him flowers and an audio recording of her brother. After listening to the tape, Connick invited the prodigy to perform with him that same year. Since then, Cincotti has joined his mentor on stage at sites throughout the country, including Bally's Grand in Atlantic City and The Paramount at Madison Square Garden.

Cincotti's power-punch resume does not end there. He has performed at various jazz venues around Manhattan, including Feinstein's at The Regency and Joe's Pub. In 1996, he was invited to the White House, where he played piano for Secret Service personnel. He wowed the audience at the 2001 Grammy Awards, the prestigious Montreux Jazz Festival in Switzerland and Ed Sullivan's Broadcast Lounge. Recently, accompanied by bassist David Finck, saxophonist Scott Kreitzer and drummer Warren Odze, Cincotti completed a one-month run at the Algonquin's vaunted Oak Room. He was the youngest headliner in the hotel's 100-year history and was thrilled to make his appearance with two of his regular co-performers, Finck and Kreitzer.
On a Saturday evening, the show was something to behold. By the glow of the low-set table lamps, a mostly over-60 crowd watched as Cincotti, in an elegant gray suit and cufflinks, walked confidently to the gleaming black grand piano in the center of the intimate room. The champagne-sipping audience appeared dubious, given Cincotti's beardless face and youthful aura. You could almost hear the question in their minds: "How could such a young man be serious about older music, the music of our generation?"

Then the performance began. And if there were any reservations, they quickly disappeared, wiped away by Cincotti's sophisticated rendition of "How High the Moon." Cincotti gave his all to other standards, including "Miss Brown to You" and "A Night in Tunisia," as well as his own compositions, with lyrics by his mother. In between songs, Cincotti amused the audience. "When I was about 16," he began, eliciting amused chuckles. "Why is that funny?" he asked, in mock perplexity. And later, "Some people ask how I balance going to a school like Columbia and finding time for my music. The answer is, I don't go to class. So I'm really not balancing anything at all," he said, laughing.


The "brightest new star on the musical stage," as he was described at the Algonquin, works hard to manage his increasingly complex schedule. "If I get a call for a gig, I need to decide whether I want to do it and also find out all the information, such as whether band members are available, and then I need to check on all the little things." How does Cincotti get his gigs? Some come through word of mouth or his agency, Ted Kurland Associates, but increasingly, they have arrived through the work of promoter Ron Delsener.

Cincotti is a natural performer whose delight in engaging his audience is palpable. "I've always loved performing, the idea of random people you don't know coming into a room to see what you're going to do," he says. "I used to do magic tricks, and I would get my whole family and say, 'At 6 o'clock, we're going to meet in the den, and I'm going to put on a show.' I took it so seriously. From age 7 on, I always loved to do that."

Contrary to his stage patter, Cincotti does attend classes, and completes his homework assignments like any other first-year. He is an insatiable learner who opted to forgo attending a conservatory, such as Juilliard, in favor of obtaining a broader education. "Everything you learn affects music," he explains. "If you have more knowledge, it comes through in the playing. A Columbia education can never go to waste." The College was Cincotti's first choice and he says, "When you get in, you're a fool not to go."

Cincotti's first-year program has included Logic & Rhetoric, Literature Humanities, Italian, Jazz Band and Music Humanities — yes, he is taking Music Hum. Cincotti learns from more than the classroom, though. Since 1997, he has studied with world-renowned classical pianist Lev Natochenny and a number of highly respected jazz pianists and arrangers, including Sy Johnson, James Williams and LeeAnn Ledgerwood.

"As much as I can, I try to take [music] lessons from everybody," he says, adding that all of his instructors have "different ways of thinking about music." In the summer of 1997, Cincotti visited New Orleans to study with Connick's former teacher, jazz titan Ellis Marsalis, father of Wynton and Branford. He also learns by listening to the music of his idols, including Ella Fitzgerald, Diana Krall, Frank Sinatra and Erroll Garner.

Cincotti might perform all over the world and may have traded in his dorm room for an Algonquin suite during his recent show, but he doesn't want to be singled out when he's at school. "When I'm at Columbia, I am in a different mode," he says. He waited a month before telling his Carman roommate about his musical career, and even then, he merely said that he "plays piano and performs around town."
Although he avoids mentioning his musical career to peers, Cincotti does occasionally invite them to his performances, hoping to involve them in his passion. "I think it's possible that if younger people see another young person singing this kind of music, they might be drawn to it. My roommates, for example, seem genuinely enthusiastic about hearing this music from someone their age."

Following the Algonquin show, Cincotti took off for Las Vegas, where he performed at the Hard Rock Hotel while his classmates were on spring break. (To balance out-of-town gigs with his schoolwork, Cincotti often schedules shows for vacation periods.) After that, he focused on finishing his schoolwork, with "sporadic gigs here and there. And then in the summer, I'll be recording the album."

"The album" is Cincotti's recording debut, which will be produced by industry heavyweight Phil Ramone. The nine-time Grammy Award-winner, who has produced albums for Ray Charles and Natalie Cole, among others, has high hopes for Cincotti's career. In a recent article in The New York Times, he stated: "I hate putting a curse on kids and comparing them to stars. I don't want him compared to Sinatra or anybody. Well, to Sinatra is OK. Too soon, but OK."

Despite Cincotti's lack of pretense, his dreams bear a striking similarity to the reality of his mentor, Connick. "I want to be a recording artist and perform all over the world and continue writing and composing," he says. He also wants to act in movies.
"Everybody used to tell me growing up that I should be an actor," he says with a smile.

More immediately, Cincotti plans to focus on his Core Curriculum requirements and choose his major, reminders that he is still an underclassman. Does he have any idea what his primary area of study is going to be? "I haven't even thought about it," Cincotti admits. "I figure I have a year."

Dina Cheney '99 is an editorial assistant for authors Andrew Dornenburg and Karen Page, an intern for the food department of Country Living Magazine and a student at Manhattan's Institute of Culinary Education.