Student Spotlight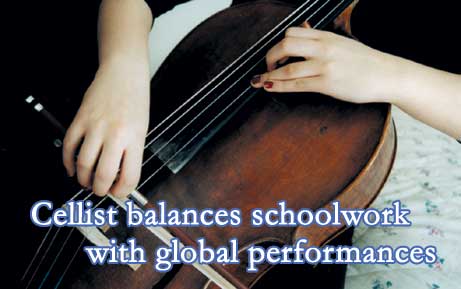 Alisa Weilerstein '04
By Beth Satkin
Don't call Alisa Weilerstein '04 a prodigy. "Don't ever use that word again!" she admonishes. "People say that all the time, and it drives me crazy. I just have a visceral aversion to that word." She prefers 'precocious.'

The College sophomore, known to her friends as Ali, already has distinguished herself as a rising cello star in the classical music world. Her resume of solo performances includes many of the world's most prestigious performing groups and venues: her Cleveland Orchestra debut at age 13, Carnegie Hall two years later, recent tours of Japan, Europe and Australia. Her debut CD was released in 1998 by EMI Records, and last year she received a prestigious Avery Fisher Career Grant. "I used 90 percent of my grant for Columbia tuition," she says, smiling. "I am saving the other 10 percent for further study down the road."

Adolescence can be a perilous time for talented young performers. Stories of early burnouts and breakdowns abound, and only the toughest of wunderkinds emerge from their teenage years unscathed. Weilerstein, however, appears to have remained grounded. "I love performing; it's my favorite thing to do," she says. "I know there are some jaded views about young people playing a lot, but I ignore that and continue what I'm doing."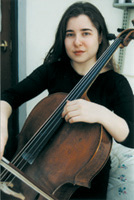 Weilerstein believes that having to carve out practice time within her busy class schedule will make her a better musician by teaching her to practice more efficiently.
PHOTO: EILEEN BARROSO

Weilerstein, a Cleveland native, was perhaps destined for a concert career. Her mother and her father, pianist Vivian Hornik Weilerstein and violinist Donald Weilerstein, are accomplished musicians and teachers. But it was her grandmother who gave Weilerstein her first cello when she was just 2 1/2 years old: a painted Rice Krispies box with a toothbrush for the end pin. Weilerstein played her toy cello day and night, even accompanying her parents at rehearsals. At 4, she roped her parents into buying her first real cello, a diminutive one sixteenth-sized instrument. She held her first public recital just six months later. These days, Weilerstein plays a 1696 Matteo Goffriller cello, on loan from the Stradivari Society of Chicago.
Weilerstein's talent was evident from an early age, her mother recalls. "When Ali was 3 years old, I was practicing at the piano," she recalls. "I got up to answer the doorbell, and when I came back, she was sitting at the piano playing the whole opening theme of a Chopin piece that I had been practicing. She had never taken a piano lesson. She just picked out the tune by ear."

Music was a family affair throughout Weilerstein's teenage years, culminating in the family's debut recording of the Ives Piano Trio as The Weilerstein Trio in 1998. "We've been playing together for such a long time. It's such a natural thing, like the way you have a conversation," says Vivian Weilerstein. But at times, says the younger Weilerstein, it can be difficult to put aside the parent-daughter relationship and work as colleagues. "We're a very close family, but of course we have our ups and downs," she says. "We just try to focus on the music. My parents take my musical ideas quite seriously." (Weilerstein has a 14-year-old brother, Josh, who is a talented violinist, but she stresses, "He has made it very clear that he doesn't want to play professionally.")

Weilerstein concedes that her college experience has been somewhat out of the ordinary, even for a Columbia student. As a first-year, for example, she performed 42 concerts in the United States and Europe on top of a full academic schedule, often writing papers on airplanes and e-mailing them to professors. On campus, Weilerstein may be spotted lugging her enormous white cello case across South Field or the steps of Low Library. But more often, you can find her in her dorm room, sawing away at etudes and concertos for hours each day, which she says isn't a problem with her neighbors. "It's easier to practice in the dorm because everyone stays up until about 4 a.m., so I never have to worry about practicing at late hours," she says. "I've practiced until 3 a.m. several times. And if somebody does want to go to sleep, they just knock on my door and say, 'Sorry, you sound great, but I just can't sleep!' And then I'll go to some other place."

Sometimes, a concert tour comes as a much-needed break from life as a student. "Living in New York, you're around people all the time, so sometimes it's nice to get away and have a bit of time to myself, where I can read and practice and learn other languages," she says. Being on the road, however, has its down side. "The hardest thing is when you're traveling alone, and you come back after a concerto performance into a hotel room, and there's no one there to celebrate with," she reflects. "Usually I wind up jumping up and down on my bed and being totally crazy, or watching bad movies until 3 a.m. You find ways to cope."
During the past year, Weilerstein has traveled extensively, performing as a soloist with the San Francisco Symphony under noted conductor Michael Tilson Thomas and in Japan with the Tokyo and Hiroshima Symphonies, as well as in several recitals in Europe. A highlight of the year came on September 15, when she performed with the National Symphony at the Kennedy Center.

"The concert was almost canceled because of the terrorist attacks," she recalls, "but in the end, everyone decided that 'the show must go on.' It was the most memorable concert experience I've had. The hall was quite full considering what had happened only four days before, and we all got the feeling that music was something that was desperately wanted and needed as solace for the terrible wounds inflicted on the country."

Despite the challenges of her dual life, Weilerstein doesn't regret having chosen a rigorous academic school such as Columbia over a full-time music conservatory. "I grew up in a conservatory atmosphere, and I decided that when I went to college, it would be time for something new," she says. "I want to read. I don't want to be stuck in a practice room for four years. There's so much more to learn, so many great books and great people to meet outside my field."





Weilerstein says the cello "is my passion; always was, and I think always will be."
PHOTO: EILEEN BARROSO

Columbia's location in New York City, she says, is a perfect combination that allows her to further her cello studies with Joel Krosnick at The Juilliard School while pursuing her undergraduate degree in 20th-century European history. Despite her demanding schedule, Weilerstein makes sure that she has some time left to explore the city, and when she talks about this, she sounds like many other College students. "I love New York City, there's so much excitement around it," she says. "I just love walking around. One of my favorite things to do is sit at outdoor cafés and people-watch."
Weilerstein aims for three hours of practice on school days and four hours on weekends, "but I only achieve that about 80 percent of the time," she admits. Trying to balance practice and schoolwork can be tricky sometimes, especially around exam periods. "But most of the time," she says, "I appreciate the balance that I have something else to think about aside from what concerto I'm going to play next."

In the long run, Weilerstein believes that having to carve out every hour of practice time will make her a better musician. "It teaches me to practice more efficiently," she says. "I'm hungry for the instrument when I get to it." Given the number of hours she spends practicing, touring and performing during the school year, Weilerstein's time at Columbia isn't exactly a break from music. "But I wouldn't want it any other way," she says. "I can't ever totally get away from it, and I don't want to."

As a first-year, Weilerstein's neighbor across the hall was one who could relate to the unique stresses of balancing a performing career with the rigors of Ivy League academics: Julia Stiles '04, whose starring roles in films like State and Main, Save the Last Dance, O and The Business of Strangers have catapulted her to the top of the ranks of young film actresses. "She said she liked hearing me practice while she was studying," says Weilerstein, "but I don't know whether she was just saying that to be nice."

What do Weilerstein's non-musician friends think of her career? "They're really fascinated by it," she says. "One time I played a concert at the Chamber Music Society of Lincoln Center, and half of my dorm floor showed up, which was really sweet. They're very supportive and very interested."

Weilerstein attributes her perseverance to her love of the instrument, and also to her parents, who she says never pushed her, yet were "100 percent supportive" of her musical career. "My parents were never the type to lock me in a cubicle and make me practice 10 hours a day," she says. Vivian Weilerstein echoed her daughter's sentiments. "I just want her to be happy," she says. "I want her to feel that she can be fulfilled doing what she wants to do, whatever that may be."

Weilerstein, meanwhile, would rather enjoy the moment. "As tempting as it is to think about the future, I'd rather live in the present," she says. And despite the daily grind of practicing and the stresses of maintaining a concert career on top of everything else, Weilerstein says she has never considered giving up the cello, and doesn't regret being so focused so early. "The cello is something I never questioned," she says. "Cello is my passion. Always was, and I think always will be."

Beth Satkin is completing her junior year at Brown University. Her writing has appeared in The New York Observer, Classical New Jersey Magazine and the Brown Daily Herald.