Jonah Belser CC'16, a political science major, has been awarded a prestigious Carnegie Endowment for International Peace Junior Fellowship.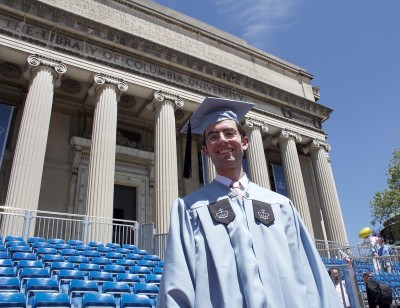 Photo: Courtesy Jonah Belser CC'16 Junior Fellows receive a one-year fellowship and work as research assistants for the endowment's senior associates, conducting research for books; co-authoring journal articles and policy papers; participating in meetings with high-level officials; contributing to congressional testimony; and organizing briefings attended by scholars, journalists and government officials.
Belser will be working in the Carnegie Democracy and Rule of Law program, a leading source of independent policy research, writing and outreach on the evolution of democracy, human rights, governance, and the rule of law around the world and on international efforts to support them. Following the fellowship, he hopes to work as a political analyst.
"Through my coursework and research assistance in comparative politics and international relations, I believe Columbia has prepared me well to address the political and ethical quandaries facing democracy and rule of law advocates around the globe," said Belser. "I'm truly excited to apply the concepts I've learned about and witness their potential limitations when helping provide analysis to policymakers and the general public as a Carnegie Junior Fellow."
Belser is one of 14 graduating seniors, selected from a pool of nominees from close to 400 participating colleges, to be named a Junior Fellow.