Thursday, December 1, 2022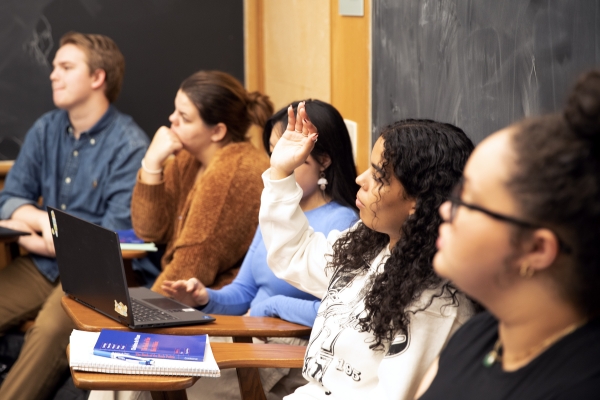 Contemporary Civilization, the course that laid the foundation for the Core Curriculum more than 100 years ago, has change baked into its blueprint. Launched just after the global catastrophe of the First World War, CC's primary goal was to prepare undergraduates to grapple with, its creators said, "the insistent problems of the present."
And to keep "Contemporary" contemporary, the class has necessarily had to evolve. The syllabus went through seven revisions between 1919 and 1928; during the last several decades, it has settled into review and revision every three years. In fall 2020, all of the Core courses added content to address the questions of anti-Black violence and racial inequality being raised after the murder of George Floyd.
For CC, those changes raised another question: If an informed and inclusive course was the goal, maybe the syllabus wasn't the only thing that needed changing. What about the process of review itself? Emmanuelle Saada, the chair of Contemporary Civilization from 2018 to 2021, realized the potential to make the process more robust and democratic.
Keeping Change Constant
"I saw my role as the chair as being the facilitator of a conversation," Saada says. "And for me, to have a conversation about the Core meant to ask everyone who had taught CC in the last five years to comment on it — what they thought was successful and not successful, what they found difficult, what was missing and what should be added."
After surveying current and former CC instructors, Saada ended up with 100 pages of feedback; with that, she formed a committee in spring 2021 with Larry Jackson, associate dean of academic affairs and director of the Center for the Core Curriculum, and a mix of faculty from different disciplines. The group met weekly to develop a set of guiding principles for change.

"It was important for us to be thinking a lot about the aims of what we were trying to do, instead of just adding or cutting," Jackson says. "It was about making a syllabus that was going to challenge students more effectively."
Broadening Identities & Perspectives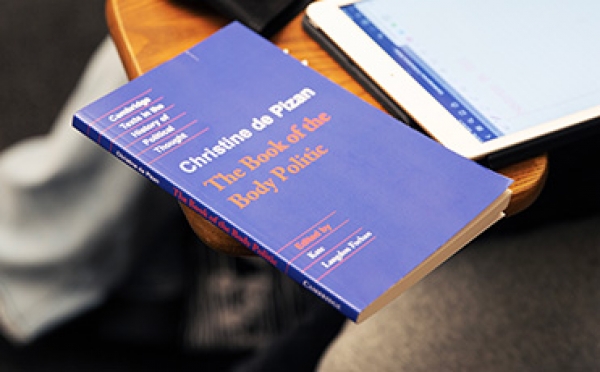 Of critical importance: ensuring that the CC syllabus accurately reflected the contributions that people of different identities have made to the history of ideas. Previously, the Fall term had not included any woman authors; now it features 15th-century political philosopher Christine de Pizan. Texts by Islamic writers Abu Nasr Muhammad Al-Farabi and Ibn Rushd were added to a section on religion and philosophy in the Middle Ages. The unit on the conquest of the Americas has also been diversified; it now includes Peruvian author Inca Garcilaso de la Vega and Codex Telleriano-Remensis, a visual work by Indigenous Mexican thinkers that demonstrates how cultural perspective can come in forms other than text.
For the Spring term, three units were added. A section on abolition includes critiques of slavery by David Walker, Frederick Douglass and Sojourner Truth; the penultimate unit, "Race, Gender and Sexuality," includes readings by Columbia professors Saidiya Hartman and Barbara Fields. The final section features philosophical responses to the insistent problem of climate change.

Some texts were eliminated to make room for the new works and units; other formerly required texts were made optional.
The response to the current syllabus has been positive thus far. "I think that when students see we're taking diversity and inclusion very seriously — that it's an important part of what we're doing as educators — it gives them a much more holistic sense of what this course is," Jackson says. "Rather than viewing [the syllabus] as something that needs to be changed, or as a checklist or a thing to get past, it gives them a sense that it's something they can engage with more."
A more inclusive syllabus also helps CC students break open the notion of canon. "Part of our job when we teach CC is trying to understand the process through which some voices become canonical, and others become discarded," Saada says. "Who got silenced and for what reason?"
It is significant that Contemporary Civilization now extends into the 21st century, which Jackson says brings a new vitality to the course. "It shows more range and continuity to be able to go from texts that were written 2,500–3,000 years ago right up into the present."
Carol Rovane, the Violin Family Professor of Philosophy and current chair of CC, has taught the course nearly every year since 1998 and celebrates its evolution. "I think it's possible to teach CC as a sort of 'meaning of life' course, where you can get students to think about issues that are still alive, that have a history," she says. "And then they understand those issues better, because they understand what they come from.
"This is an encounter with something that helps students think about the things that matter," she adds. "It matters to the political choices and moral choices they're going to be making as the world changes."