Tuesday, November 24, 2009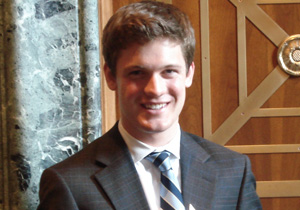 Rhodes Scholar Raphael Graybill, pictured here at the U.S. Capitol, where he worked as a summer associate for the Senate Finance Committee (Image credit: James Frisk) On Nov. 18th, Columbia College student Raphael Graybill '10 found out that he was selected as a 2010 Marshall Scholar. Just three days later, after two days of interviews in Seattle, he was told in person that he had been chosen to attend Oxford as a Rhodes Scholar. Graybill is the second Columbia College student in two years to be selected for both the Rhodes and Marshall Scholarships.
Originally from Great Falls, Montana, Graybill has decided to accept the Rhodes Scholarship to pursue a master's degree in politics, focusing on political theory. He is particularly interested in understanding how media shapes opinion and political action.
"At Columbia, I've had great faculty and advisers who are deeply invested in their work-not only as it stands in the academy, but for how it engages with the world as well," said Graybill, who also credits his peers for the education he's gained both inside and outside the classroom. "It's a privilege everyday to get to attend class and engage with some of the most interesting, passionate and smart students out there."
In addition to his demanding academic schedule, the undergraduate is also captain of Columbia's ski and snowboarding team and serves as an auxiliary police officer with the New York Police Department's 26th Precinct. Once a week, he dons a uniform and patrols neighborhoods in Upper Manhattan.
His work on political and social issues is exhaustive: In 2008, he was the youngest member of Montana's delegation to the Democratic National Convention, and in 2009, he was a summer associate at the U.S. Senate Finance Committee's majority staff, working on health care reform. He has also worked for Senator Max Baucus's office in Washington D.C. on foreign policy, defense, intelligence and veterans' issues; held positions in the Democratic Party, including statewide field coordinator for an attorney general campaign; and worked as a staff aide for the Montana Democratic Party. He is also involved with the Lutheran World Relief foundation as a member of its President's Council.
"Raphael is a terrific leader, as well as a great student," said Michael Pippenger, associate dean of fellowship programs at Columbia College. "That he was awarded both the Rhodes and Marshall Scholarships is quite a feat and it speaks to the ways people recognize his commitment to public service and his potential for a very bright future."
The Marshall Scholarships were founded in 1953 to "commemorate the humane ideals of the Marshall Plan" and to "express the continuing gratitude of the British people to their American counterparts." This is the fourth year in a row that a Columbia student has been named a Marshall Scholar. Past scholars include Paul Sonne (CC'07), Emma Kaufman (CC'08) and Samuel Daly (CC'09).
Graybill joins 31 American men and women selected as Rhodes Scholars and will commence his studies at Oxford in October 2010. Rhodes Scholarships provide all expenses for two or three years of study, and may allow funding in some instances for four years. The scholarship was created in 1902 by the will of Cecil Rhodes, British philanthropist and African colonial pioneer. The first class of American Rhodes Scholars entered Oxford in 1904. Past Rhodes Scholarship recipients from Columbia include Jisung Park (CC'09) and Jason Bello (CC'08).