Carlos Muñoz CC '57, GSAS '61 went through Columbia on a full scholarship and wanted to give back to other students like him. He created a scholarship in memory of his mother — the Gladys H. Muñoz Scholarship Fund — for students of Hispanic descent from Stuyvesant High School, his alma mater, or other public high schools in New York City.
As he has done for several years, Muñoz met his scholarship recipients at the annual Dean's Scholarship Reception, held this year on February 7 in Roone Arledge Audition in Alfred Lerner Hall with almost 500 donors and students in attendance. Muñoz is thankful for the opportunity to meet his two recipients and hopes the experience of meeting their donor motivates current students to give back after they graduate.
"I think it's a very worthwhile program. I'm glad they have the reception and the opportunity for the students to meet their donors," he said. "I think it helps inspire them so that maybe those who are successful later on in life will do the same thing."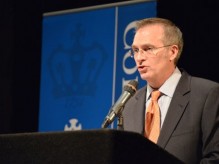 College Dean James J. Valentini spoke to donors and recipients at the annual Dean's Scholarship Reception. PHOTO: CHRIS BALMER CC '07
Dean James J. Valentini opened the evening by welcoming everyone "to one of the happiest nights of the year." After reading highlights of a financial statement from PwC (formerly PricewaterhouseCoopers) that said Columbia University had net assets of more than $10 billion, he said, "PwC is wrong. Our actual assets are in this room. You are our assets. We have only two assets — faculty and students, and students may be current students or former students." Speaking of the combination of donors and scholarship recipients in the room he said, "This is an important relationship. Financial aid is one of the most important tools that we have at Columbia. We have, by all measures, the most diverse college among selective schools in the country. Financial aid is a tool that allows us to create the Columbia that we have."
Echoing that feeling was the evening's donor speaker, James T. Brett CC '84, BU '90. "We are all here today because we are invested in the future of Columbia College," he said. "Our goal is to create an equal playing field where we can. Scholarships allow us to attract and retain some of the best students around. We want to remain competitive, and named scholarships allow us to do so."
Brett and his wife, Patricia '87, who have three children, established the Jessica Lee Brett Scholarship in memory of their daughter. Noting how scholarships help the College enroll students who might not otherwise be able to attend, he said, "The college that supports diversity – of every kind — wins every time. And that college is Columbia."
Each year, nearly 1,200 Columbia College students receive named scholarships. Students are matched with scholarships based on their intellectual pursuits, extracurricular achievements, hometowns and plans for the future, among other factors.
Named scholarships are just one part of the College's financial aid program, which guarantees full-need, no-loan financial aid to nearly half of all College students. Donors say they endow scholarships to give back for aid they received as students, in memory of family members, in honor of their reunion year and because they are thankful for the education they received. Such financial aid allows Columbia College to admit students based on their ability to contribute in the classroom and on campus, not based on what their family can afford.
"What makes you do it is at some point a recognition that being able to attend Columbia, and the Columbia experience and education, has materially contributed to whatever success you have in life," said Richard Kurnit CC '72, who started the Rick Kurnit and Diane Katzin Scholarship Fund. "A way of giving back that is most meaningful is to give to somebody else who otherwise might not be able to have an opportunity."
"Columbia's been very important to me. I stepped onto this campus a long time ago, and whatever success I had, it's been partly responsible," said Bernard Nussbaum '58 who helped start The Class of 1958 Peter Stuyvesant Scholarship. "So, like other people, I like to give back. I think people should give back."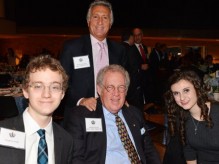 Donors and recipients of Columbia College named scholarships meet at the annual Dean's Scholarship Reception. PHOTO: CHRIS BALMER CC '07 "I not only had a great education and a great time when I was an undergraduate, but I also see the need for financial aid," said Don Margolis '63, BU '65. "So I believe strongly in donating for financial aid."
Dominic Petito '77, who received financial aid as a student, said he values diversity at the College and thinks it is important for people who cannot afford to go to Columbia to still have such an opportunity.
"Columbia opened my eyes up to the world," he said. "Just because you don't have money doesn't mean you're not smart and can't do well there."
Petito said he attends the Scholarship Reception to see who is benefiting from his scholarships and why he or she needs it.
"You meet kids from different backgrounds and who have different needs and different interests, and learn about their life experiences. I find it enlightening. I find it refreshing to be talking to them. It makes you appreciate the fact that being the donor actually makes a difference in people's lives."
He added, "I find it one of the best events of the year."
Brandon Lewis '13, who spoke at the reception on behalf of the scholarship recipients, said, "There are moments that inspire us, that affirm us, that strengthen us and that change us. For me, this is one of those moments. What can I possibly say to thank you for this opportunity?"
Lewis, who grew up with his mother in Loganville, Ga., recalled an incident when he was about 4. "We were in a grocery store, and this woman came up to us and said to me, 'I look forward to teaching you in my remedial math class.' Why did she look at me and assume I would need remedial math? That hurtful comment inspired us to work hard to defy the odds and the statistics."
Lewis said he always hoped to attend Columbia, but understood the reality. "My family could not afford to send me to Columbia. It was an impossibility. I applied anyway, and the day I received my letter of acceptance was a happy one but I wasn't truly elated until I received the financial aid package that allowed it to become a reality." An urban studies major who plans to participate in Teach For America next year in Houston, Lewis drew a laugh when he told the audience they could hear more of him on "The Night Train" show on WKCR, where he plays "the smooth sounds of funk, jazz and R&B."
Lewis closed by addressing the donors: "Thank you for believing that my success should not be determined by the labels attached to me. You opened a door for me and many other people, and I urge you to continue to live, love and give." And to the scholarship recipients, he reminded them that in the near future they would become alumni and urged them to honor those who made their success possible by giving back themselves. "We've each been given a special gift, and now it's up to each of us to live, love and give."