Sophie Wilkowske CC'17, a history major with a Russian language and culture concentration from Duluth, Minn., has received a prestigious Beinecke Scholarship.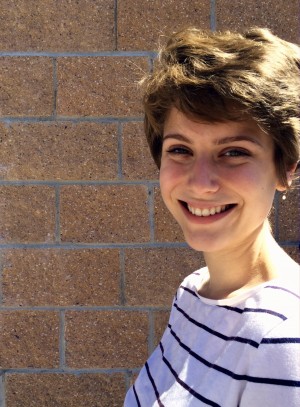 Wilkowske, one of 20 college juniors to receive this award, was chosen from nominees from more than 100 undergraduate institutions. The scholarship provides awardees with $34,000 to support their pursuit of graduate study.
"The Beinecke represents a tremendous accomplishment for Sophie Wilkowske and indeed for Columbia," Scott Carpenter, associate dean of global education and fellowships, said. "It is satisfying that her talent and hard work, along with the strong support of the history faculty, has been met with such a great result."
Wilkowske, who hopes to pursue a PhD in history with a focus on economics and intellectual history, has worked as a research assistant for W. Bentley Macleod, the Sami Mnaymneh Professor of Economics and a professor of international and public affairs; for Carl Winnerland, associate professor of history at Barnard College; and for Ethan Striblink, for whom she has conducted archival research in the Rare Books and Manuscript Library for a book-length commissioned history of the Community Service Society.
"Receiving a Beinecke scholarship is an honor, which I couldn't have come by without the kindness and guidance of my professors and advisors," Wilkowske said. "This scholarship will let me follow my interests and do work I enjoy. I'm grateful for the help and excited for the future."
Wilkowske is the publisher of the Columbia Political Review, where she oversees all aspects of the student publication's production. She has also served as a college mentor at the College's Double Discovery Center, which works with low-income and first generation college-bound Manhattan-area youth to ensure high school graduation, college enrollment and completion and responsible adulthood. In addition, she has interned as a speech, privacy and technology intern at the American Civil Liberties Union and as a banking technology intern at Morgan Stanley.
The Beinecke Scholarship seeks to encourage and enable highly motivated students to pursue graduate  study in the arts, humanities and social sciences. The scholarship program was established in 1971 by the Board of Directors of The Sperry and Hutchinson Company to honor Edwin, Frederick and Walter Beinecke, leaders of the company in the 1920s. Since 1975 the program supported  more than 570 college juniors from more than 100 different undergraduate institutions.
"To be chosen for this award, students must demonstrate remarkable potential in the junior year," Carpenter added. "Sophie is destined for a brilliant career as an historian and we're proud to see her take the next steps with the Beinecke."