Wednesday, April 13, 2016
Columbia undergraduates Katherine Jin CC'16, Kevin Tyan CC'16 and Jason Kang SEAS'16, cofounders of the startup Kinnos Inc., have been awarded the prestigious Lemelson-MIT Student Prize. They will receive an unrestricted cash prize of $10,000 as winners in the undergraduate "Cure it" category for their innovative new product, Highlight, an easy-to-use powdered additive that can be mixed into disinfectant solutions to temporarily colorize treated surfaces while enhancing adhesion and antiviral potency, allowing global health care workers to more reliably sanitize a range of contaminated surfaces.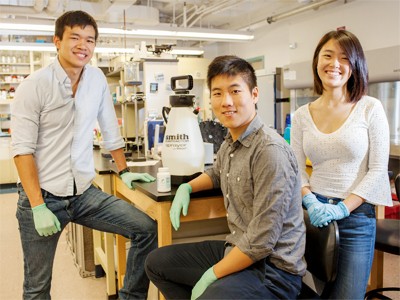 Kinnos Inc. L-R: Jason Kang SEAS'16, Kevin Tyan CC'16 and Katherine Jin CC'16 —Photo by Timothy Lee Photographers Kinnos aims to improve the process of decontamination around the world with the hope of becoming a sustainable business innovating public health solutions. They were one of only three undergraduate teams to receive a Lemelson-MIT Student Prize, amid a diverse and highly competitive pool of young inventors from 77 colleges and universities across the country.
"The Lemelson-MIT Student Prize affirms that our work is important for the health care workers and patients who benefit from Highlight, and gives us the opportunity to inspire young innovators to tackle global challenges," said Kang.
Due to close proximity to disease agents, health care workers are vulnerable to infection from dangerous diseases like Ebola, influenza, and West Nile Virus, and keeping them safe has become a booming $8 billion industry. The Kinnos team foresees two uses for their first product: daily use by institutions such as hospitals and laboratories and emergency situations during epidemic outbreaks.
"This year's Lemelson-MIT Student Prize winners have outstanding portfolios of inventive work," said Michael Cima, faculty director of the program. "Their passion for solving problems through invention is matched by their commitment to mentoring the next generation of inventors."
Highlight has already been incorporated into the Fire Department of New York's HazTac/HazMat decontamination protocol responses, and New York-Presbyterian Hospital is exploring applications in patient rooms. The product has also been field-tested by healthcare workers in Liberia and is scheduled for further testing with International Medical Corps in Guinea this June. The Kinnos team recently traveled to Europe to demonstrate Highlight for Doctors Without Borders and the World Health Organization.
Kang, Jin, and Tyan teamed up for Columbia's rapid-fire Ebola Design Challenge in 2014, sponsored by Columbia Engineering and the Mailman School of Public Health. The team founded Kinnos shortly after the design challenge, and brought in as advisors Engineering Dean Mary C. Boyce, Biomedical Engineering Professor Sam Sia and Senior Lecturer Aaron Kyle. They went on to earn a major grant in the Columbia Venture Competition's undergraduate challenge, and became one of just 12 teams to win the U.S. Agency for International Development's (USAID) Fighting Ebola Grand Challenge, receiving support for production and deployment of their product. The trio have also been recognized by the Collegiate Inventors Competition and the VentureWell network, and were recently named to Forbes' annual 30 Under 30 list for their innovations in health care.
—by Jesse Adams for The Fu Foundation School of Engineering and Applied Science