Wednesday, April 29, 2015
Undergraduate students in the Department of Latin American and Iberian Cultures (LAIC) have created a research journal, Portales: The LAIC Journal of Undergraduate Research. The journal, founded by a group of Columbia College, Barnard College and School of General Studies students, seeks to foster interdisciplinary dialogue at the undergraduate level through the publishing of scholarly and creative work.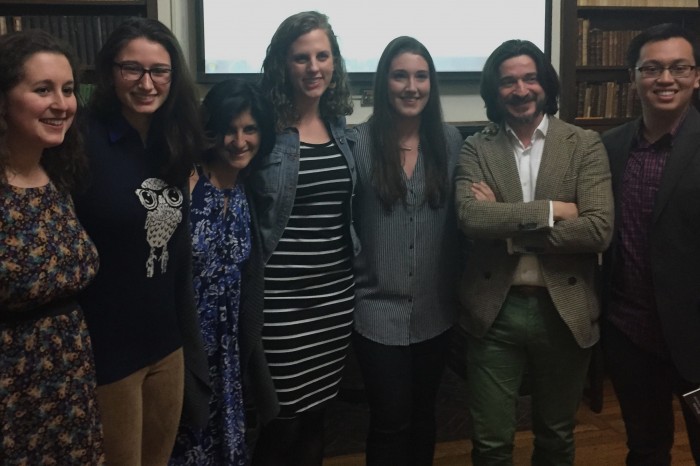 The "Portales" founding editorial board with Jesús Rodríguez Velasco, professor of Latin American and Iberian cultures and chair of LAIC. Photo: Courtesy "Portales"
Jesús R. Velasco, professor of Latin American and Iberian cultures and chair of LAIC, proposed the electronic journal to underscore the importance of undergraduate research and interdisciplinary dialogue at LAIC. Velasco was also instrumental in submitting the proposal to the Library of Congress in 2014 and in establishing the mentorship relationship between the Portales editorial board and Eunice Rodríguez Ferguson, former managing editor of Revista Hispánica Moderna.
"Our objective became to compile outstanding student work, both expository and creative, that would inspire and exemplify scholarship and interdisciplinary discourse at the undergraduate level," said Hannah Kauders BC'15, Portales editor-in-chief. "We were lucky to receive many strong submissions for our first issue, many of them interdisciplinary in nature." 
The founding of Portales comes as LAIC is revamping its undergraduate curriculum and course offerings and further positioning itself as a center for research that begins with the instruction and research of undergraduates. In addition, the department has collaborated with the Departments of Anthropology, Art History, Music, History and French; with the Digital Humanities Center, the Institute for Comparative Literature and Society and the Center for the Study of Race and Ethnicity; as well as with libraries, museums and cultural venues across New York City, including the Hispanic Society of America and the Instituto Cervantes, to offer students opportunities to conduct research and to consult primary sources, Rodríguez Ferguson said.
The founding editorial board of Portales comprises eight undergraduates — Kauders; Lacey Beck BC'15; Danielle Gorshein GS'15; Mark Philip Villanueva Jamias CC'17; Eliana Kanefield CC'17; Jacqueline M. Kovarik CC'17; Rachel Sprouse BC'15; and Ligner Karina Vázquez CC'16.
The journal will be accepting submissions from undergraduate students through May 15 for its second issue, which will be published in late spring 2015. Click here for more information or to visit the journal.