Tanveer Singh CC'18, of Jersey City, NJ, has been named a member of the Class of 2021 Schwarzman Scholars. The prestigious scholarship, inspired by the Rhodes Scholarship, is given to scholars who have demonstrated exemplary leadership qualities and their potential to bridge and understand cultural and political differences. This year's 145 scholars were selected from a pool of approximately 4,700 applicants and include students from 41 countries and 108 universities.
Schwarzman Scholars pursue a one-year master's degree at Tsinghua University in Beijing while also attending lectures, traveling and developing a better understanding of China through cultural immersion. In addition to a core curriculum, scholars focus on one of three academic disciplines: public policy, economics and business, or international studies.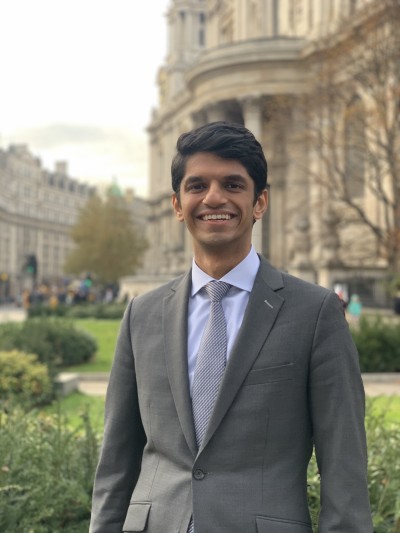 Photo courtesy of Tanveer Singh
"I am tremendously excited and humbled to be awarded the Schwarzman," said Singh, who graduated from the College with a degree in financial economics and political science. "Studying economics, international affairs and public policy at Tsinghua ties together all the threads that have interested me since my first days as a Columbia College student."
"We're delighted that Tanveer has been named a Schwarzman Scholar, an opportunity that affords him the possibility of exploring global affairs in Beijing for a year." said Ariella Lang, associate dean of Academic Affairs and director of Undergraduate Research and Fellowships. "This world-class experience will be enriched by Tanveer's contributions. Likewise I'm excited to see how this experience will inform and enrich Tanveer's leadership.
For Singh, part of the excitement of the Schwarzman Scholarship is tied to the idea of exploring a new urban environment.
"I grew up loving the cities I've lived in and explored. My dad was a proud cab driver in New York and — with my mother's help — built a family business centered around trucking in Jersey City," said Singh. "To now live in Beijing for a year and see firsthand how the city and its political-economic system work will be a rewarding change of pace."
While a student at the College, Singh co-founded the Columbia Private Equity Group, advised Columbia Sewa, Columbia Undergraduate Consulting Club and Columbia China Law and Business Association and was a member of the Columbia International Relations Council and Association and Columbia Undergraduate Law Review.
"For me, Columbia College was a wide canvass to explore curiosities big and small," said Singh. "I remember being pushed to understand and challenge, particularly through the Core, what it means to be 'excellent.'"
Singh's classroom experience also shaped his time at Columbia.
"Looking back, taking "Major Texts of East Asia" with Professor [Michael I.] Como, [the Tōshū Fukami Associate Professor of Shinto Studies]; studying Mandarin in Kent; and probing urban politics with Professor [Carlos] Vargas-Ramos, [adjunct associate professor of political science], all helped me gain clarity on what I want to learn and accomplish at Tsinghua and beyond."
The fellowship's rigorous selection process relies on readers from different regions and backgrounds who can provide insights to identify the highest level of leadership and academic excellence. Irina Liu GS'18, Mary Liu GS'19 and Xiaowen Han SEAS'14 will join Singh in the program.
"I plan to use the Schwarzman Scholarship as an opportunity to pivot into public and social advocacy back here in New York," said Singh. "I want to be involved in challenging poverty and income inequality in urban environments through non-profit, policy or legal work.""
Since graduation, Singh has worked as a business analyst for McKinsey & Company, working with social impact and public and private sector enterprises. "Cities have given me and my family many lucky breaks," said Singh. "I hope to keep pushing for ways to make those opportunities more equitable and accessible, and less reliant on chance."
Interested in learning more about the Schwarzman Scholarship application process? Visit Undergraduate Research and Fellowships.