Monday, February 27, 2023
Jaine Archambeau CC'22 and Joshua Elias CC'21 have been awarded 2023 Charles B. Rangel International Affairs Fellowships. The Rangel Fellowship supports extraordinary individuals who want to pursue careers in the Foreign Service. Rangel Fellows receive funding for a master's as well as extensive professional development opportunities and mentorship. Upon successful completion of the program, fellows become U.S. diplomats in summer 2025.
"The Rangel Program is thrilled to welcome Joshua Elias and Jaine Archambeau into our program," said Rangel program director Patricia Scroggs. "Their outstanding background, including their strong academic credentials from Columbia University, made them highly competitive candidates. I have no doubt that they will excel in their respective graduate programs and will contribute to promoting peace, prosperity and human dignity around the world as Foreign Service Officers."
Jaine Archambeau CC'22
Archambeau, who is from Chicago, majored in political science with a concentration in Russian language and culture. During her time at the College, she was the First Generation, Low Income Student Representative for three years and chaired the Financial Accessibility Student Task Force in the Columbia College Student Council. She was also political chair of the Native American Council of Columbia University and a Hiking Orientation Program leader in the Columbia Outdoor Orientation Program. Archambeau currently works as a compliance officer at Goldman Sachs, where she is a founding member of its Native American and Indigenous Peoples Working Group, which focuses on inclusion and educational programming.
As a Rangel Fellow, Archambeau says she looks forward to continuing her studies of Eurasian comparative politics in graduate school and then spending a career in the Foreign Service. "I applied to this fellowship because it is aimed at increasing the number of people from historically underrepresented groups in the Foreign Service," Archambeau said. "It created a pathway for me to pursue a career that previously felt unattainable."
---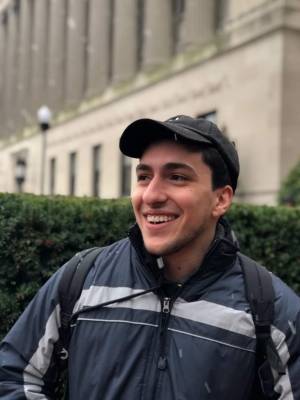 Joshua Elias CC'21
Elias, who is from Miami, Fla., majored in political science. During his time at the College, he was a representative for the Class of 2020 in the Columbia College Student Council. He also was a volunteer team leader for the Housing Equity Project's Direct Outreach Program and a member of the Columbia University Brazilian Jiu-Jitsu Club. Outside of campus, Elias taught English speaking skills and civics to immigrants for the Immigrant Resource Center of Miami. He currently teaches English in Lankaran, Azerbaijan, through the Fulbright program.
As a Rangel Fellow, Elias says he plans to take classes in economics, international development, data analysis and project management to prepare himself for the complex challenges he will face abroad. "Being a Foreign Service officer will perfectly blend my interests in being a public servant and learning about cultures around the world," he said. "It is a unique career path that looks different for each officer, which is why being part of the Rangel network will be invaluable as I navigate each post and try to make a positive impact abroad."
---
For more information about the Charles B. Rangel International Affairs Fellowship, please reach out to Undergraduate Research and Fellowships.