| | | | | | | |
| --- | --- | --- | --- | --- | --- | --- |
| | | || | | || | | |
FEATURE
First Person: My Columbia Connection and Amit
BY MERVYN ROTHSTEIN '64
I had a chance this fall to renew my long and valuable relationship with Columbia, this time because of a friend: prize-winning Indian novelist, essayist and singer Amit Chaudhuri.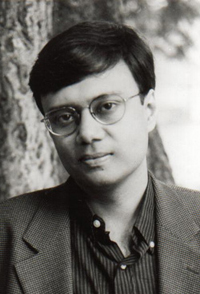 Indian author and singer Amit Chaudhuri was born in London and received his Ph.D. from Oxford.
PHOTO: JERRY BAUER

I have been on campus often in the past 20 years, largely because of my work as a writer and editor at The New York Times. In the mid-'80s, I taught reporting, writing and editing as an adjunct at the Journalism School, and in 1985, I wrote a profile for the Times of one of my favorite College professors, Howard Davis, a professor of art history who had been honored as a great teacher. I returned to 501 Schermerhorn Hall, the same lecture room in which I had sat more than 20 years earlier, to hear Davis lecture on Italian Renaissance art. As the students entered, I realized that many, or perhaps all, of them had not been born when I had taken the class.
In the early '90s, covering the education beat for the Times, I was back on campus, writing about the first-year student orientation program and later attending Literature Humanities and Contemporary Civilization classes for an article on how the Core Curriculum had changed during the decades. And in 2000, 40 years after our class first showed up as freshmen, I spent a week at orientation for an article comparing Orientation 1960 with Orientation 2000.
Last fall, though, I was on campus because of Amit. I had interviewed him for the Times in 1999, when his first book, Freedom Song: Three Novels (Knopf, 1999), had been published to critical acclaim. The next year, when his book received the Los Angeles Times Book Prize for Fiction, he stopped in New York on the way back from claiming his award, and we had a chance to chat and become friends.
Then, in early 2001, I visited him in India. My daughter, Jill, had won a graduate teaching and travel fellowship and was living and working in India; my wife, Ruth, and I arranged to meet her in Calcutta, where she had taught in a school program for underprivileged and street children. Amit lived in Calcutta with his wife and young daughter, and we arranged to get together. Over tea at our hotel, Amit mentioned that he had always wanted to live for a while in New York, and that he wished he knew someone who could help him get a visiting professorship at a university there for a semester. I said I would gladly see what I could do.
When I returned to New York, I sent an e-mail to Annette Insdorf, the director of undergraduate film studies. In one of my many incarnations at the Times, I had been acting deputy editor of the Sunday Arts & Leisure section, and Annette often wrote for it. I told her about Amit, and what he was hoping to accomplish, and she forwarded the e-mail to Alan Ziegler, the head of the writing division at the School of the Arts.
It wasn't that easy, but a year later, I received an e-mail from Amit saying that he had been named a visiting professor at the School of the Arts and would be teaching a seminar in the fall semester on Indian literature (an anthology of which he had just edited). He arrived Labor Day weekend, and our families socialized.
We had a party for Amit, and I returned to campus twice, once for a reading that he gave in Schermerhorn Extension of one of his essays, and again for a concert recital in Lerner Hall at which Amit sang Hindustani classical music for two hours. Sitting in Lerner made me think of all the hours I had spent in Ferris Booth Hall in the Spectator offices, reporting, writing and editing. Those days have served me well.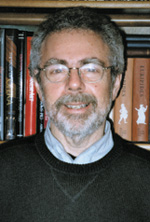 Mervyn Rothstein '64

Each visit I make to Columbia reminds me — though I don't really need reminding — of what a bountiful and rewarding place it is, and what a life-shaping experience it provided for me and for all of us.
The concert took place just four days before Amit taught his last class of the semester and headed back to Calcutta. I hope to see him again soon, but I miss him already. I hope to see Columbia again soon. I miss it already.
Mervyn Rothstein '64 was a reporter and editor on the Columbia Daily Spectator for four years, and has been a writer and editor at The New York Times for 21 years. He also has written for Playbill, Wine Spectator, Cigar Aficionado and other publications.
| | | | | | | |
| --- | --- | --- | --- | --- | --- | --- |
| | | || | | || | | |


CCT Home


This Issue


Previous Issue

CCT Masthead