| | | | | | | |
| --- | --- | --- | --- | --- | --- | --- |
| | | || | | || | | |
FEATURE
Roar, Lion, Roar
Shoop Brings Confidence and Enthusiasm to Task of Building Columbia Football
BY ALEX SACHARE '71
Insisting he is "coming into this with my eyes wide open," Bob Shoop was introduced as Columbia's 17th head football coach at Low Library on January 9 and declared that his goal was "to compete on a regular basis for an Ivy League championship.
"Anything less is unacceptable," maintained Shoop. "There will be no excuses."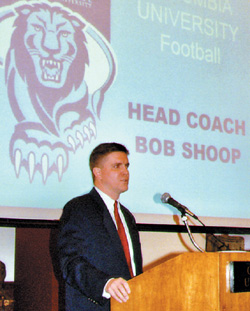 Bob Shoop takes the reins of Columbia's football program.
PHOTO: TODD KENNEDY

Shoop, a 36-year-old Yale graduate, most recently was defensive backfield coach at Boston College, helping the Eagles to bowl victories in each of his four years there. BC ranked 13th in the nation in passing defense and 17th in pass efficiency defense this past season. Shoop also has served as an assistant coach at Yale, Virginia, Northeastern, Villanova and Army, and is widely regarded as an accomplished recruiter. This is his first head coaching position.
His former boss, Boston College Head Coach Tom O'Brien, described Shoop as "energetic, intelligent, a family man with leadership skills. He's the whole package. He's a very enthusiastic coach, and I think that's something Columbia needs."
Shoop succeeds Ray Tellier as the Shepherd Alexander Head Football Coach. Tellier served for 14 seasons, with the Lions peaking at 8–2 in 1996, when Tellier was named Division I-AA Coach of the Year. But the Lions couldn't maintain that level of success, plummeting last season to 1–9, their 12th losing season under Tellier, who was relieved of his coaching duties shortly after the end of the season.
Shoop's selection followed a nationwide search by a 14-member panel that included alumni, administrators and current players. "There was a great pool of candidates," said Athletics Director John Reeves, who noted that the search committee chose to focus on Division I-A assistant coaches as opposed to head coaches at lower levels because it felt the program already was on sound footing, despite losing records in each of the past six seasons.
"Bob brings a great deal of energy and enthusiasm," said Reeves, echoing what O'Brien expressed. "He has advanced quickly through the coaching ranks because of his hard work and dedication. Bob has been associated with some of the best football minds in the country and is the perfect man to lead the Lions to the next level. He is a smart, driven winner."
So how does Shoop plan to win at Columbia?
"We are going to build our football program on three pillars," he declared. "The first one is to play with passion. We are going to be a team that's tough, and I'm not just talking about physical toughness. I'm talking about mental toughness. And we are going to build a team that plays together. So when I stand before the team that first day, we're going to talk about passion, toughness and team. This is going to be Lion football.
"What do you have to do to improve a program? We have to work to help the student-athletes we currently have on the roster improve. Then we have to go out and get better football players. It seems pretty simple."
Shoop places the oft-heard canards about the distractions of New York City, the academic demands of a school like Columbia and the five-mile distance between campus and Baker Field squarely in his "no excuses" file. He doesn't see those as insurmountable obstacles, and cites the attraction of New York City and a Columbia education as recruiting assets rather than liabilities.
"I want to recruit good people who are good football players, who will be successful in the community, in the classroom and on the field. We are going to sell a program that's committed to winning, one of the top liberal arts educations in the world, and New York City. It's the greatest city in the world — it doesn't seem like a hard sell."
Shoop noted that other schools, including Yale and Pittsburgh, also have their football facilities away from campus, yet have built successful programs.
"There are obstacles," Shoop conceded. "There are problems that are unique to Columbia, but there are those types of problems everywhere. We'll solve them and get this thing done."
And he pledged to get it done now.
"I have a vision for what I think of Columbia football, but I don't have a four- or five-year plan. We have a senior-dominated team, especially on the offensive side of the ball. They want to know what we are going to do now. Our plan is to aim high in 2003. "
Shoop already has had an impact, with players responding to his approach to the task at hand. "He's bringing a new attitude and new energy to the program. Everyone's really happy," wide receiver Travis Chmelka '04 told Spectator, voicing a sentiment echoed by other Lion gridders.
"I'm excited about the challenge, the opportunity," Shoop concluded. "We're going to start building immediately. There's a fine line between 1–9 and 9–1, and we already have a nice nucleus of experience and a university that's committed to success. You expect success, you don't hope for it. We're not supposed to lose."
Alex Sachare '71, the editor of Columbia College Today, is a former sports editor of Spectator and sports writer for the Associated Press.
| | | | | | | |
| --- | --- | --- | --- | --- | --- | --- |
| | | || | | || | | |